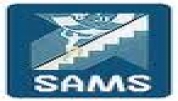 SAMS College of Engineering and Technology Fees Structure
SAMS College of Engineering and Technology Fee Structure
Master of Engineering/Technology at SAMS College of Engineering and Technology
| Specialization | Duration | Total Fees (Approx) |
| --- | --- | --- |
| ME/MTech in Computer Science Engineering | 2 years, fulltime | Rs. 0.9 Lakhs |
| Specialization | Duration | Total Fees (Approx) |
| --- | --- | --- |
| BE in Aeronautical Engineering | 4 years, fulltime | Rs. 1.3 Lakhs |
| BE in Computer Science Engineering | 4 years, fulltime | Rs. 1.3 Lakhs |
| BE in Information Technology | 4 years, fulltime | Rs. 1.3 Lakhs |
| BE in Marine Engineering | 4 years, fulltime | Rs. 1.3 Lakhs |
| BE in Mechanical Engineering | 4 years, fulltime | Rs. 1.3 Lakhs |
Photo Gallery
Reviews
Asked question about SAMSCET fees structure and courses
What is the ME fee??
Asked by Arjun
---
---
I wants to know about fees structure for marine engineering?
Asked by Naveen kumar
---
I am complete in 12th in 2014 i am studying degree i would like to join marine my mark is 767 i am e?
Asked by MUTHAMILAZHAGAN T
---
total fees of the course?
Asked by arun
---
Interested in SAMS College of Engineering and Technology
Most Searched Engineering Colleges in Chennai