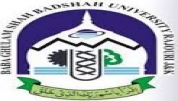 Baba Ghulam Shah Badshah University Fees Structure
Courses & Fee of Baba Ghulam Shah Badshah University
Bachelor of Hotel Management
| Specialization | Duration | Total Fees (Approx) |
| --- | --- | --- |
| Hospitality Management | 3.0 years, fulltime | Apply |
| Travel & Tourism | 3.0 years, fulltime | Apply |
| Hotels and Hospitality Management | 3.0 years, fulltime | Apply |
| Tourism Management | 3.0 years, fulltime | Apply |
| Food Production / Catering | 3.0 years, fulltime | Apply |
| Culinary Arts | 3.0 years, fulltime | Apply |
| Specialization | Duration | Total Fees (Approx) |
| --- | --- | --- |
Asked question about BGSBU fees structure and courses
is there any entrance for phd for those candidateswho have already completed their mphil?
asked by saima
Fees structure for btech?
asked by MUDASIR BASHIR
Fee structure for msc botany?
asked by bisma farooq
Fee structure in MSC biotech?
asked by irfan rather
Need Advice! Ask the question, We would be happy to help you.
Ask an Expert
Interested in Baba Ghulam Shah Badshah University
Most Searched Engineering Colleges in Jammu and Kashmir