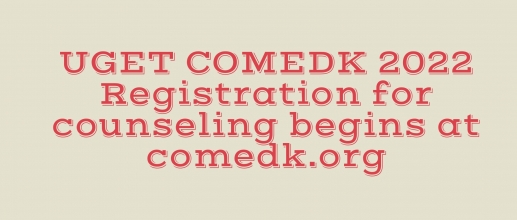 UGET COMEDK 2022 Registration for counseling begins at comedk.org.
According to the authorities, the COMEDK UGET 2022 counseling registration has begun on comedk.org.
The COMEDK 2022 counseling registration has begun online, according to the Consortium of Medical, Engineering, and Dental Colleges of Karnataka (COMEDK). Candidates who passed the UGET exam can register for COMEDK 2022 counseling through August 12 at comedk.org.
Initial registration, choice-filling in the COMEDK 2022 counseling, payment of fees, and document verification are all part of the COMEDK UGET 2022 counseling procedure. On July 5, the authorities released the COMEDK UGET 2022 results on the official website.
Date of COMEDK 2022 counseling
| Events | COMEDK UGET Counselling Dates |
| --- | --- |
| COMEDK UGET 2022 Counselling registration | July 19 to August 12, 2022 |
| Document verification completion | August 18, 2022 |
| Round 1 choice filling | August 22 to 24, 2022 |
| Publication of mock seat allotment | August 26, 2022 |
| edit preferences in choice filling form | August 26 to 28, 2022 |
| COMEDK round 1 seat allotment result | August 30, 2022 |
| Confirmation of choice | August 30 to September 2, 2022 |
| Last date for Reporting | September 5, 2022 |
| Surrender facility | August 30 to September 6, 2022 (1 PM) |
Candidates who completed COMEDK UGET 2022 are eligible to participate in COMEDK UGET counseling 2022 and document verification to receive seats in the colleges and programs of their choice.
The allocation of seats for COMEDK UGET 2022 is based on the candidate's preference, rank, and seat availability. Each category (General Merit, HKR/Tulu Minority/Karnataka Christian Minority, and Non-Karnataka Christian Minority) receives its seat allocation for COMEDK UGET 2022. After seats are assigned, students can choose to Upgrade, Reject, Accept, or Withdraw from their assigned seat.
Only candidates who consent and pay in full can fill out the choices in the exclusive round.
For undergraduate engineering admissions at 181 colleges, centralized counseling is offered online. The candidate's place in the merit list and their expressed preferences are considered when allocating seats.
Steps for Registration of COMEDK UGET 2022 Counselling
Applicants can use the following procedures to complete the COMEDK counseling process:
Step 1: Go to comedk.org, the COMEDK 2022 counseling website.
Step 2: Fill out the COMEDK counseling registration form with the necessary information.
Step 3: Pay the 2000 Rupee COMEDK counseling cost online.
Step 4: Seats will be assigned based on candidates' rankings and top choices.
Step 5: Candidates must show up at the facility designated for document verification.
Facts about COMEDK UGET 2022 counseling
Rounds of Counselling: 3 maximum
Maximum of 7 sessions each round for counseling
Five stages of counseling: registration, uploading documents for verification, choice-making, mock allocation, and seat allocation.
Who is eligible to apply? - Engineering COMEDK UGET and NATA exam qualifiers (architecture). However, to participate in counseling, candidates must register online.
Candidates cleared 12th grade or an equivalent with a combined average of 45% in Physics, Chemistry, Mathematics, Biology, Biotechnology, Computer Science, and Electronics (40 percent for SC, ST, and OBCs of Karnataka State only).
But for the time being, applicants for the PU Board / 10+2 supplemental test in 2022–23 can upload their current mark sheet. They will have the option to post their qualified marks card later because their counseling will be completed after all rounds of normal counseling.
The counseling session was held in Bangalore's NMKRV College the previous year. The counseling procedure will, however, take place online this year.
Procedure for COMEDK UGET 2022 Counselling (Engineering)
These are the procedures that applicants must adhere to to participate in COMEDK 2022 Counselling.
Step 1: Registering and paying the counseling fee
Fill out the Applicant Login ID with your COMEDK login information.
The "Counselling Registration" Tab should be selected.
Check your information, and then pay the INR 5000 charge.
Upload all required documentation for validation.
To take part in counseling, log into your account once again when the page says "successful payment."
Step 2: Option Entry and Locking
After a successful transaction, sign in and select "Option Entry."
Decide if you want to base your decision on the colleges or courses list.
Select "Add Preference." Check that the school and course you choose are shown under "Selected Preferences."
Make sure you choose the school and course according to preference.
To add your preference, click the "Save" button.
To display your chosen options, select "Preview." Click on "delete" option to the right of each choice if you want to remove any course or college from the list.
When you are happy with your preference list, click "Save" and print out a copy for your records.
Step 3: COMEDK mock allocation
The candidates will be given seats according to their preferences in Step II. During Mock Allotment, they will have the chance to modify their preferences.
When logged in, select "Counselling Process" from the menu.
Verify the college, course, and preference numbers assigned to you.
Click on "Option Entry" and add, remove, or reorder your preferences to make any changes to your list.
When finished, click "Save" and print the page for your records.
Step 4: Seating Allocation
The COMEDK Merit List candidate's ranking and choices they expressed during online counseling and Mock Allotment will be considered for allocating seats. Bangalore will host the offline counseling and be the location of the final seat distribution. The following should be expected of students when they attend COMEDK counseling.
Submission and document verification
Candidates must register by verifying their biometric data, signatures, and photos before receiving a registration slip.
Seating Chart
Placement of the Demand Draft
Obtaining the Letter of Allotment and the Fee Receipt
Step 5: Candidates' post-seat allocation selections
Once seats have been assigned, candidates have four alternatives.
Accept: In this instance, they won't be permitted to participate in the next round of counseling. To confirm the seat given and to report to the designated college for document verification, they must pay INR 50,000.
Accept and Upgrade: They will be qualified for the second round of counseling. To confirm the seat given and to report to the designated college for document verification, they must pay INR 50,000. The seat allocated in the first round shall be kept if higher preferences are unavailable.
Reject and Upgrade: To participate in the second round of counseling, the seat granted in the first round must be given up. Students must pay INR 50,000 to confirm the seat offered in round 2 and show up at the designated campus for document verification.
Reject and Withdraw: In this scenario, the candidate forfeits the seat offered in the first round of counseling and is not eligible for subsequent rounds.
Step 6: Document Verification & Letter of Allocation
Only students who choose the "Accept" option during the first round of counseling are eligible for this phase.
From the COMEDK Login's "Documents necessary for Verification" tab, download the Verification Entry Card.
The location of document verification will send the Original Allotment Letter once the candidates have validated their documents.
Within the time frame outlined in the letter, they must report to the designated college.