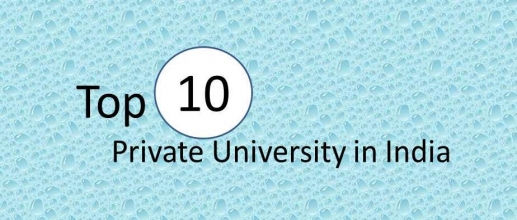 We are enlisting highest rated private universities in India according to academic quality, ownership, perception, placement and other required factors. Although government colleges remain one of the best institutions in the field of management and engineering but they form a very small volume of students who are enrolled in these institutions leaving behind a vast majority of aspiring students. Private universities and colleges take more students as compared to government institutions.
Here is a list of Top 10 Private Universities in India
It has the maximum intake of students for engineering courses. It was established in 1985 and its name is synonymous with technical education. It consists of four campus. The newest one is near Delhi NCR, Modi Nagar and other three are in Chennai. Many lakhs of students apply for various courses that highlight the popularity of the university.
It has been awarded A grade by NAAC. It is also one of the few technical institutions In India that is recognized by ABET. This institute make sure that students are very intelligent and capable enough to carry the legacy of the college. It aims to train students in science and technology. It mainly focus on research and innovative knowledge.
It is most popular institutions that offer courses in various fields like MBA, engineering, Law, commerce and humanities. It is one of the biggest institutions for higher education in Delhi NCR. It is approved by UGC and recognized A grade by NAAC. It has over 1, 25,000 aspiring students that are studying across many campuses in India and abroad.
The students adopt the holistic approach towards learning. This is greatly achieved by nurturing moral values in their students with the development of scientific approach.
It is the rising star in the Indian education sector. It aimed to maintain a quality in placements and academics. It offer admissions to students on the performance of students in its own entrance exam. It is a three hours entrance exam that is conducted annually in April month. It has various campuses in Bhopal, Chennai, and Amravati. It is recognized by NAAC and accredited by ABET.
Engineering is one of the course that is offered by VIT along with Law, MBA, architecture and many more. This learning center has passed every test of time that make it one of the best institution in India. The university ranks higher in employer reputation, research and academic reputation.
It was established in 1997 to enhance the quality of engineering colleges in that area. It has become most recognized engineering college in Orissa. The placement services are excellent. It conducts its own entrance. It ensures the better opportunities for students to excel in study. The excellent research facilities is equipped with proper guidance of the teachers.
It is one of the well- known universities that offer courses in medical and engineering. It is recognized by NAAC and UGC. It conducts admissions through its own entrance examination (MET). The placement and academics of Manipal University is good. The institution ensures that many students who study from this college get jobs even before complete the course. It is an urban university that is dedicated to make leaders.
It is one of the oldest college that offer engineering courses in this list. It was established in 1956. Since 62 years ago, still it has retained his reputation. The B. tech course offered by Thapar University is one of the best engineering courses in Punjab. It also offer various other courses like ME, BE and MBA. Placements at this institution are very good and various leading companies recruit the students every year from this campus. The main objective is to increase the quality of education
It was established in 2005, covering every field of the study. It is one of the biggest universities in Punjab for science and technology. It is recognized by NCTE, UGC and COA. It is located over 600 acres and have over 10,000 students from all fields. These programs are offered at various different level from short-term certificate degree to doctoral program. This institution is located in the prime location of India. Also, the fees structure is justified.
It was established in 2012 and has been rapidly growing in campus placement and infrastructure. It is approved by AICTE and UGC. It offer various degree courses in the technical and non-technical domain like management. It offers BE programs on the performance of JEE mains and offer MBA on the basis of exams like CAT and MAT. The placement of CU are excellent. Also, many students go for higher education that shows about its high quality of teaching and educational resources. . The institution has grown in size and in terms of caliber as well.
It is being named in the top 100 engineering university in India by NIRF. It is recognized by UGC and NAAC. The entrance exam are usually conducted in first week of April. It began as a college with main focus on petroleum and mechanical engineering. It also offer other courses as well. This university instill the sense of curiosity in their students leading to high research oriented environment. Here, institution motivate students to think out of box and apply what they learn in the world outside.
It is one of the best engineering college in Delhi NCR. It is recognized by AICTE, UGC and accredited A grade by NAAC. It offers various courses. It has many campuses in Solan, Noida, Aligarh and Guna. This institution offer excellent quality of education. The main objective is to create technologically equipped attitude by providing high education and innovation.