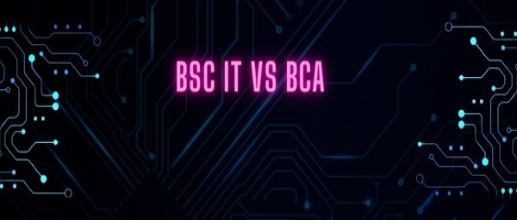 Whether you are planning to enroll in a BSc Information Technology (IT) or a BCA program, you should know the differences between them. In addition, you should know the program's scope, the benefits, and which one will better suit you.
The BCA and BSc IT courses have a lot in common but aren't exactly the same. For instance, BCA is an application-based course, whereas BSc IT is a research-driven course. In addition, while BCA emphasizes programming, BSc IT is more about computational theories and data structure. Whereas students are pursuing BCA learn more about current technologies and get a basic knowledge of in-demand programming languages.
Both BSc IT and BCA provide a wide range of career opportunities. Besides, the salary package offered to graduates of both courses is quite competitive. However, BSC IT is better suited to academic pursuits, while BCA is more suited to corporate jobs. Similarly, job security is also high in the IT sector.
Are you confused about picking between topmost career courses like BCA or BSc Information technology? This article gives deeper insights into the course structure and significant differences between BSc IT and BCA.
BCA IT vs BCA: Highlights
| | | |
| --- | --- | --- |
| Particulars | BSc IT | BCA |
| Full Form | Bachelor of Science in Information and Technology | Bachelor of Computer Applications |
| Stream | Science | Computer Applications |
| Duration | 3 years | 3 years |
| Admission Criteria | Merit and Entrance Exam | Merit and Entrance Exam |
| Average Fees Structure | INR 90,000 to INR 4.3 Lakhs | INR 2 to 3 Lakhs |
| Average Salary | INR 2 to 4 Lakhs | INR 3 to 6 Lakhs |
| Job Profiles | Quality Analyst, Software Developer, IT Specialist, Technology Engineer, Programmer | Computer Technician, Computer Systems Analyst, Computer Maintenance Engineer, Computer Programmer |
BSc IT vs BCA Course Overview
Choosing BSc IT or BCA course is a great way to prepare for a career in this field. It provides you with the assistances you need to be successful in a wide range of industries. But first, you should know a few things before starting your studies.
BSc Information Technology
BSc IT is a science course that is a three-year undergraduate program. It focuses on computer networking, databases, software development, and data storage. In addition to learning these topics, students will also learn how to use emerging technologies. Upon graduation, graduates may have opportunities to work for major corporations or pursue a masters in IT.
Besides, the course provides the foundational knowledge and skills needed to launch a career in information technology. It combines theoretical knowledge with hands-on expertise, and students will learn how to design, develop, and implement computer-based systems. BSc IT fees structure might vary between 90k to 4.3 Lakhs.
The BSc IT Syllabus includes database design, operating systems, programming in C/C++, and computer networking courses. Students will also have opportunities to study mobile applications and information security. Almost all businesses rely on information management, and leaders must analyze data to ensure that their companies achieve their business goals.
BCA
The three-year BCA course is an application-based program that prepares students to build a career in the IT industry. It provides job opportunities in various sectors, including software development, web development, data structures, game design, and more. BCA fee structure in private colleges might vary between INR 2 to 3 Lakhs. In contrast, the fees in government colleges will be feasible compared to private ones.
The BCA course is also an ideal choice for students looking for a stable career in the corporate world. It is a well rounded course that teaches students everything they need to know about computers. BCA Syllabus includes web designing, operating systems, C++, network security, and multimedia technologies. It also offers students a chance to work overseas.
BCA graduates can also opt for specializations, such as Cloud Architecture, Data Science, Artificial Intelligence, Machine Learning, and Full Stack Development. A student can also choose to pursue a Master's in Computer Applications. These specializations will give the graduate more options for their careers. A BCA degree can also be a springboard to entering the MBA program. It can help graduates find jobs in human resources management, project management, and business analytics.
BSc IT Vs BCA: Eligibility
Basically, these courses are related to computers and have many similarities. Thus, the eligibility criteria are almost similar for both courses. Each college and university has its admission procedure. However, choosing a course based on your interests and career goals is important.
BSc IT Eligibility Criteria
Candidates are required to pass 10+2 from any recognized board to be considered for admission in BSc IT. In addition, they shall have studied 10+2 in the science stream.
Some colleges/ universities require a minimum of 50% aggregate marks to qualify.
Few universities might conduct their entrance test to determine students' eligibility.
BCA Eligibility Criteria
To be eligible for BCA, students must have passed HSC/10+2 with not less than 50%. In addition, they shall have studied Maths as the main subject.
Moreover, top universities might conduct their entrance test to offer admission.
The entrance Exam for BCA includes IPU CET, KIITEE, LUCSAT, and PESSAT.
BSc IT Vs BCA : Syallbus
BSC IT and BCA are similar in many aspects, but there are differences in the subjects they cover. So, choosing a program according to your career goals and interests is important. Whether you are a pupil who wants to work in the IT industry or a tech-savvy student who wants to develop your technical expertise, you will be well served by pursuing either one of these programs.
BCA Syllabus
In-depth work of a computer system
Organizational Behaviour
C- Programming
System Analysis and Design
Visual Basic
Computer Laboratory
BSc IT Syllabus
Mathematics
C Programming
Basics of Computer Science
Basics to Digital Electronics
Discrete Mathematics
Computer Organization
BSc IT vs BCA : Benefits
Whether you're considering BCA or BSc IT, the benefits of pursuing one of these courses can't be overstated. Both courses provide a pathway to a well-paying career in IT. However, choosing between the two courses can be tricky. Therefore, it is important to understand their similarities and differences before deciding. In addition, students might think about which is best BSc IT or BCA. We have explained the benefits of pursuing both courses to answer these questions.
Benefits of pursuing BSc IT
The BSc IT course is one of the most sought-after courses by employers. Therefore, having a good background in mathematics, physics, and chemistry, a keen eye for aspect, and the ability to think critically is important. In addition, it will help you obtain a Software Programmer or System Analyst job. These positions are available in various sectors, including software, telecommunications, Office Automation, and networking. Moreover, you can also take up advanced studies to become a computer scientist.
The IT knowledge gained in college can be applied to various industries, enabling the creation of applications that will change the world. It can also help develop innovative products to improve the quality of life. Moreover, studying a science stream will enable you to choose a career that will benefit the environment.
Moreover, a BSc degree gives students more employment opportunities. Especially in India, government jobs offer good salaries and reimbursement of medical expenses. These jobs are also highly prestigious, which helps students to work with experts in the field. Whether you're interested in working in a research lab, or teaching, a BSc in science can give you a great start in the field.
Benefits of pursuing BCA
Getting a BCA degree is a excessive way to start a career in the IT industry. With the increasing demand for computer experts, many companies are recruiting graduates with this qualification. As a result, the job opportunities for graduates with this degree are endless. With the skills obtained from this course, they can work in different fields, including software development, education, healthcare, and governmental organizations.
The demand for BCA graduates is increasing and will only continue to increase. As a result, the graduates will be among the top-earning new employees in the sector. However, careers in high demand today may be outdated in a few years. As a result, students need to learn theories that match the industry's standards. In addition, it is also necessary to gain practical experience. Finally, it will help students develop a solid work ethic.
Another benefit of pursuing a BCA degree is the opportunity to take part in a paid internship. The experience you receive from your internship will help you prepare for a job when you graduate. Many IT companies offer internships to BCA graduates. A reputable example is Wipro. Other organizations that employ BCA graduates include Infosys and Tech Mahindra.
BSc IT Vs BCA Jobs
The BCA and BSc IT courses are good for students who want stable corporate jobs. In the last few decades, technology has made work easier. In the computer science field, many job offers are available to graduates. They can find a job in both the private and public sectors. Every year, more and more jobs are created in the IT sector. Furthermore, it is expected that in the coming years, the industry will expand even more. Therefore, the demand for information technology professionals is very high.
BSc IT Job Salary in India
The course provides an opportunity to explore a wide variety of career paths. Graduates with an IT degree can earn a decent salary every month. As the IT industry expands, the demand for skilled professionals increases. A BSc IT degree can open up various job opportunities in India and abroad. Moreover, working in a foreign country can be an exciting and life-changing experience.
The BSc IT starting salary in India is approximately 2 lakhs per annum. However, the salary can increase after a few years of working.
BSc IT Top Recruiters: HCL, TCS, Cognizant, Wipro, Mahindra, etc.
| | |
| --- | --- |
| Job Profile | Average Salary per Year |
| Web Designer | INR 2.33 Lakhs |
| IT Consultant | INR 11.46 Lakhs |
| Application Analyst | INR 4.20 Lakhs |
| Network Engineer | INR 6.78 Lakhs |
| Technical Sales Representative | INR 2.92 Lakhs |
| IT Support Analyst | INR 3.12 Lakhs |
| Software Developer | INR 3.90 Lakhs |
BCA Job Salary in India
BCA graduates can get into the job profiles such as software development, engineering, System Analyst, Data Operator, Web Programmer, and many more. They can also become freelance developers and take up short-term projects. The industry's demand for these skills is growing because computers continue to evolve. In addition, the global tech industry is expanding, and jobs are being created.
The salary of a BCA graduate varies according to the position they are in and the industry. At the beginning of their careers, the BCA Average Salary varies. But this can increase as the demand for IT experts increases. There are also opportunities to become self-employed or to work for a start-up.
BCA Top Recruiters: Amazon, Tata, HP, L&T, Microsoft
| | |
| --- | --- |
| BCA Job Role | Average Salary |
| Computer Network Architect | INR 7 L INR 9 L |
| System Analyst | INR 6.30 L INR 7.70 L |
| Software Engineer | INR 9 L INR 12 L |
| Software Developer | INR 9 L INR 11 L |
| Web Analyst | INR 8 L INR 9 L |
| Computer Network Architect | INR 8.40 L INR 9.20 L |
| Data Operator | INR 7.50 L INR 8.60 L |
| Web Programmer | INR 6.20 L INR 7 L |
| Web Administrator | INR 5.80 L INR 6.50 L |
Top Colleges for BSC IT
Top Colleges for BCA
DAV College
Symbiosis Institute of Computer Science and Research Pune