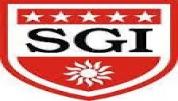 Sanjay Ghodawat Group of Institutions Fee Structure
Sanjay Ghodawat Group of Institutions Fees Structure & Courses
Courses, Duration, Course Type and Fee Structure
Master of Engineering/Technology
| Specialization | Duration | Total Fees (Approx) |
| --- | --- | --- |
| Civil Engineering | 2 years, fulltime | Rs. 1.6 Lakhs |
| VLSI & Embedded System | 2 years, fulltime | Rs. 1.6 Lakhs |
| Machine Design | 2 years, fulltime | Rs. 1.6 Lakhs |
| Specialization | Duration | Total Fees (Approx) |
| --- | --- | --- |
| Civil Engineering | 4 years, fulltime | Rs. 3.4 Lakhs |
| Computer Science Engineering | 4 years, fulltime | Rs. 3.4 Lakhs |
| Electrical Engineering | 4 years, fulltime | Rs. 3.4 Lakhs |
| Mechanical Engineering | 4 years, fulltime | Rs. 3.4 Lakhs |
| Electronics & Telecommunications | 4 years, fulltime | Rs. 3.4 Lakhs |
| Specialization | Duration | Total Fees (Approx) |
| --- | --- | --- |
| Civil Engineering | 3 years, fulltime | Rs. 1.2 Lakhs |
| Computer Science Engineering | 3 years, fulltime | Rs. 1.2 Lakhs |
| Electrical Engineering | 3 years, fulltime | Rs. 1.2 Lakhs |
| Mechanical Engineering | 3 years, fulltime | Rs. 1.2 Lakhs |
| Electronics & Telecommunications | 3 years, fulltime | Rs. 1.2 Lakhs |
Photo Gallery
Watch Videos
Asked question about SGI fees structure and courses
I'm interested in acquiring BBA so please can you tell me the fee structure including hostel n mess facility .....?
asked by saniya
I wish to join MBA department and i want to know about admission procedure and fees structure?
asked by Romesh paranjape
plz tell me OBC caste MBA fees?
asked by Pradnya More
Want to put my son For diploma. Want to know fee structure . ?
asked by Nihal Budekhan
NT-D category mba academic fee structure?
asked by Jyoti Nagargoje
I need admission to your college?
asked by Bhim murmu
Need Advice! Ask the question, We would be happy to help you.
Ask an Expert
Interested in Sanjay Ghodawat Group of Institutions
Most Searched Engineering Colleges in Kolhapur