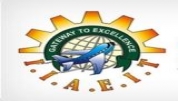 Indian Institute for Aeronautical Engineering & Information Technology - [IIAEIT] Pune Courses & Fees
Courses & Fee of Indian Institute for Aeronautical Engineering & Information Technology
Specialization
Duration
Total Fees (Approx)
Aeronautical Engineering
4 years, fulltime
Rs. 0.2 Lakhs
Mechanical Engineering
5 years, fulltime
Rs. 1.3 Lakhs
Specialization
Duration
Total Fees (Approx)
Mechanical Engineering
3 years, fulltime
Rs. 0.2 Lakhs
Photo Gallery
Reviews
satyam kumar
Class of 2016
Campus facilities
Asked question about IIAEIT fees structure and courses
What is fees of 1 year?
asked by Kajal Patil
Hi sir/madam , I have information about cut off of dsy students, fees structure of college & hostel.?
asked by Satyam mangate
Addmission?
asked by YOGESH MAHADEV PATIL
Need Advice! Ask the question, We would be happy to help you.
Ask an Expert
Interested in Indian Institute for Aeronautical Engineering & Information Technology
Most Searched Engineering Colleges in Pune