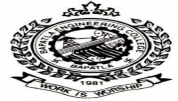 Bapatla Engineering College Fees Structure
Courses & Fee of Bapatla Engineering College
Master of Engineering/Technology
| Specialization | Duration | Total Fees (Approx) |
| --- | --- | --- |
| Power System | 2 years, fulltime | Rs. 1.2 Lakhs |
| Machine Design | 2 years, fulltime | Rs. 1.2 Lakhs |
| Structural Engineering | 2 years, fulltime | Rs. 1.2 Lakhs |
| Communication Systems | 2 years, fulltime | Rs. 1.2 Lakhs |
| Specialization | Duration | Total Fees (Approx) |
| --- | --- | --- |
| Civil Engineering | 4 years, fulltime | Rs. 3 Lakhs |
| Computer Science Engineering | 4 years, fulltime | Rs. 3 Lakhs |
| Information Technology | 4 years, fulltime | Rs. 3 Lakhs |
| Mechanical Engineering | 4 years, fulltime | Rs. 3 Lakhs |
| Biotechnology Engineering | 4 years, fulltime | Rs. 3 Lakhs |
| Electrical and Electronics Engineering | 4 years, fulltime | Rs. 3 Lakhs |
| Electronics & Communication Engineering | 4 years, fulltime | Rs. 3 Lakhs |
| Instrumentation and control engineering | 4 years, fulltime | Rs. 3 Lakhs |
Photo Gallery
Watch Videos
Asked question about BEC fees structure and courses
My ecet rank is 465 in civil, my caste is BC-A,what is fee structure. I done diploma in this college?
asked by Eswar
Is there any scholarship for me? ?
asked by Rohini
Are there any management seats for chemical engg . If yes what are the fee particulars??
asked by durgaprasad
Both hostle and college fees??
asked by kishore
Give the information?
asked by Gaddam Mouli
Need Advice! Ask the question, We would be happy to help you.
Ask an Expert
Interested in Bapatla Engineering College
Most Searched Engineering Colleges in Guntur