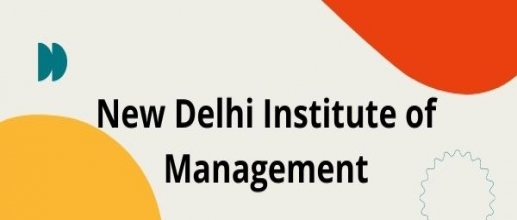 In 1992, the New Delhi Institute of Management (NDIM) was founded. NDIM Delhi is an integral part of the Society for Employment and Career Counselling, a non-profit and charity education society. The ICCI rewarded NDIM as India's "Best Private Institute" for Excellence in Education and Entrepreneurship. NDIM has been consequently ranked among Top Business School through many surveys organized by AIMA, IMRB, Business World, Business Standard, Business India, DNA Group of Newspapers. NDIM has established itself as a hub for CEOs, Presidents, and CMDs worldwide. NDIM is popular for its MBA education due to its strong "Industry Interface," which has been ranked top in India, alongside IIM (K) and MDI.
NDIM Delhi Rankings & Recognitions:
Excellence in Management Education for BBA at the Best Management Institute.
North India's best management school.
The Academic Leadership Award in Management Education recognizes academic excellence in management education.
The Bhayat Foundation awarded Mahila Sashaktikaran for her work in Beti Bachao Beti Padhao.
NDIM has regularly received the highest A+++ rating from Business India.
NDIM is one of Asia's fastest-growing MBA schools, according to KPMG.
New Delhi Institute of Management PGDM Admission
Admission to the PGDM program is available in nine specialities. In addition, NDIM is accepting applications for a dual-specialization PGDM in Marketing & Finance.
Eligibility to apply for PGDM at NDIM is open to holders of a bachelor's degree.
Admission to PGDM in NDIM will be granted based on the All India Level CET results and the Institution's GD and PI.
Candidates will be shortlisted based on their CMAT, CAT, GMAT, MAT, ATMA, and XAT scores.
Furthermore, candidates must meet the cut-off requirements defined by the NDIM admission authority. Once the NDIM PGDM Admission Process commence, the authority will release the separate cut off score for entrance tests.
NDIM Delhi Cut off for PGDM vary for each accepted national level aptitude test. Candidates will be shortlisted based on entrance test scores followed by cut off criteria.
After that, shortlisted candidates have to appear for GD/PI rounds for the further selection process.
The Institution will post the NDIM final merit list based on the entrance test score, GD/PI and previous academic records.
NDIM PGDM application form can be filled out online at the Institution's website. The application fees cost INR 1000/-
Alternatively, candidates can even download the application from the college's website. Make the payment of INR 1000 through DD.
85 seats were allocated for Indian students, and 15 seats were reserved for NRI students.
New Delhi Institute of Management PGDM Cut off
Candidates who wish to apply for admission in NDIM through CAT score must have secured a minimum 60 percentile or above to be eligible.
MAT Cut off for NDIM PGDM Admission is 80 percentile. Candidates applying through CMAT must score above 75 percentile. Wheres, XAT Cut off in NDIM is restricted to 70 percentile.
NDIM Delhi CAT Cut-off 2018
| | |
| --- | --- |
| Section | CAT Cut-off Percentile 2018 |
| DILR | 40%ile |
| VRC | 40%ile |
| QA | 40%ile |
| TOTAL | 60%ile |
NDIM Delhi CAT Cut-off 2019
| | |
| --- | --- |
| PGDM Specializations | CAT Cut-off Percentile 2019 |
| PGDM in Finance | 60 |
| PGDM in Human Resource Management | 60 |
| PGDM in Information Technology | 60 |
| PGDM in International Business | 60 |
| PGDM in Marketing | 60 |
| PGDM in Financial Service & Insurance | 60 |
| PGDM in Media Marketing & Communication | 60 |
| PGDM in Operations & Supply Chain Management | 60 |
NDIM Delhi CAT Cut-off 2019 (Section-wise)
| | |
| --- | --- |
| Section | CAT Cut-off Percentile 2019 |
| VRC | 40%ile |
| QA | 40%ile |
| DILR | 40%ile |
| TOTAL | 60%ile |
NDIM Delhi CAT Cut-off 2020
| | |
| --- | --- |
| PGDM Specializations | CAT Cut-off Percentile 2020 |
| PGDM in International Business | 60 |
| PGDM in Human Resource Management | 60 |
| PGDM in Information Technology | 60 |
| PGDM in Finance | 60 |
| PGDM in Marketing | 60 |
| PGDM in Media Marketing & Communication | 60 |
| PGDM in Operations & Supply Chain Management | 60 |
| PGDM in Financial Service & Insurance | 60 |
NDIM Delhi CAT Cut-off 2020 (Section-wise)
| | |
| --- | --- |
| Section | CAT Cut-off Percentile 2020 |
| VRC | 40%ile |
| QA | 40%ile |
| DILR | 40%ile |
| TOTAL | 60%ile |
NDIM Delhi MAT Cut off 2016
| | |
| --- | --- |
| PGDM Specializations | MAT Cut-off Percentile 2016 |
| PGDM in International Business | 60 |
| PGDM in Information Technology | 60 |
| PGDM in Human Resource Management | 60 |
| PGDM in Finance | 60 |
| PGDM in Operations & Supply Chain Management | 60 |
| PGDM in Media Marketing & Communication | 60 |
| PGDM in Marketing | 60 |
| PGDM in Financial Service & Insurance | 60 |
NDIM Delhi MAT Cut off 2019
| | |
| --- | --- |
| PGDM Specialisations | MAT Cut-off Percentile 2019 |
| PGDM in Finance | 80 |
| PGDM in Human Resource Management | 80 |
| PGDM in International Business | 80 |
| PGDM in Marketing | 80 |
| PGDM in Financial Service & Insurance | 80 |
| PGDM in Information Technology | 80 |
| PGDM in Media Marketing & Communication | 80 |
| PGDM in Operations & Supply Chain Management | 80 |
NDIM Delhi MAT Cut off 2020
| | |
| --- | --- |
| PGDM Specializations | MAT Cut-off Percentile 2020 |
| PGDM in Information Technology | 80 |
| PGDM in Human Resource Management | 80 |
| PGDM in Financial Service & Insurance | 80 |
| PGDM in Finance | 80 |
| PGDM in International Business | 80 |
| PGDM in Operations & Supply Chain Management | 80 |
| PGDM in Media Marketing & Communication | 80 |
| PGDM in Marketing | 80 |
NDIM Delhi, CMAT Cut-off 2019
| | |
| --- | --- |
| PGDM Specialisations | CMAT Cut-off Percentile 2019 |
| PGDM in Operations & Supply Chain Management | 75 |
| PGDM in Media Marketing & Communication | 75 |
| PGDM in Marketing | 75 |
| PGDM in International Business | 75 |
| PGDM in Information Technology | 75 |
| PGDM in Human Resource Management | 75 |
| PGDM in Financial Service & Insurance | 75 |
| PGDM in Finance | 75 |
NDIM Delhi CMAT Cut off 2020
| | |
| --- | --- |
| PGDM Specializations | CMAT Cut-off Percentile 2020 |
| PGDM in Marketing | 75 |
| PGDM in Media Marketing & Communication | 75 |
| PGDM in Operations & Supply Chain Management | 75 |
| PGDM in Financial Service & Insurance | 75 |
| PGDM in Human Resource Management | 75 |
| PGDM in Information Technology | 75 |
| PGDM in International Business | 75 |
| PGDM in Finance | 75 |
NDIM Delhi XAT Cut-off 2020
| | |
| --- | --- |
| PGDM Specialisations | XAT Cut-off Percentile 2020 |
| PGDM in Finance | 70 |
| PGDM in Human Resource Management | 70 |
| PGDM in Information Technology | 70 |
| PGDM in International Business | 70 |
| PGDM in Marketing | 70 |
| PGDM in Financial Service & Insurance | 70 |
| PGDM in Media Marketing & Communication | 70 |
| PGDM in Operations & Supply Chain Management | 70 |