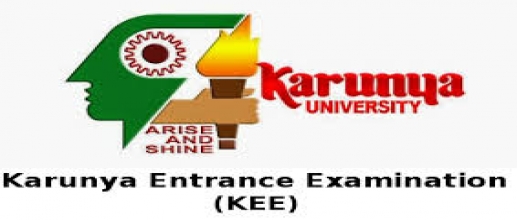 KITS (Karunya Institute of Technology and Sciences) has declared the official notice regarding the reschedule of KEE 2020 (Karunya Entrance Examination) hence as per the latest update KEE 2020 Examination will be conducted from 22nd July 2020 to 26th July 2020.Initially, KEE 2020 Examination was supposed to be conducted on 25th April 2020 and 26th April 2020 but it was postponed due to the Nationwide Lockdown situation because of the amid COVID-19 outbreak
Karunya Entrance Examination will be conducted for the candidates who are seeking to get admission into Undergraduate Courses at KITS. Admissions will be granted based on the candidate's merit score obtained in KEE 2020
Meanwhile, the examination authorities have been allowed for the provisional admissions which is being granted through online counselling in order to help for the candidates to reserve seats until the conduction of entrance exam.
However, candidates can still apply the application form for KEE 2020 via online mode by visiting the official website of KITS. Earlier, application form was released on 15th November 2019. Candidates before filling the application form must make sure the required eligibility criteria for the specific course which they are willing to apply for.
Candidates who have successfully registered for KEE 2020 will be able to access the KEE 2020 Admit Card which via online mode will be available on the official website 15 days prior to the examination date.