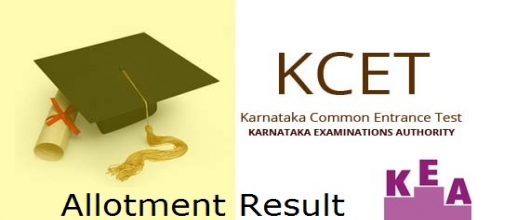 The allotment result for UGCET and UGNEET has been released by KEA (Karnataka Examination Authority)
The second round allotment results are been related by Karnataka Examination Authorities for undergraduate CET. The admission authorities have also released the first round allotment results for undergraduate NEET Ayush 2019.
How to check the allotment results?
Step 1: Visit KEA official website (cetonline.karnataka.gov.in/kea/)
Step 2: Click on 'allotment result' link in the official website.
Step 3: Provide the required credentials like CET number.
Step 4: After entering the registration number click on submit and view your status.
The allotment result is been released through official website of Karnataka Examination Authority. Candidates applied for 2nd round allotment for UGCET can check their allotment result by visiting the KEA official website. Along with UGCET even the UGNEET allotment results for 1st round is also made available through the official website. Candidates can login with their registration credentials to seek their allotment results of their respective examinations. Candidates will have to exercise the choice and block their preferences based on the allotment seats before the end date of the allotment.
The candidates can select one out of four from the choice allotted by the Karnataka Examination Authorities through allotment results and block their preference before the due date. The due date for blocking the allotment is before 27th July 2019. The candidates can wait for the seat matrix for UGNEET second round in case their preference is not been allotted in round one.