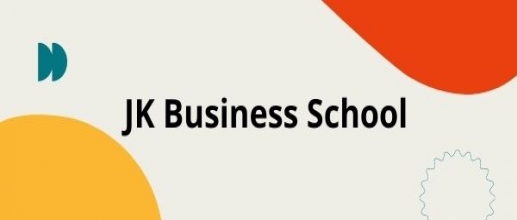 JK Business School was established in 2006 as a private autonomous college in Gurgaon, Haryana. JKBS is approved by educational committees like AICTE, NBA, and AIU. JKBS is accredited by NAAC with an 'A' grade and got several awards and recognitions. The academic courses offered in JKBS are BBA at UG level and PGDM for two years that is similar to MBA at the Postgrad level. JK B School Rewarded as Asia's Top Industry Anchored Business School. Admission at JK B School Gurgaon, is based on entrance test results followed by GD/PI selection rounds.
JK Business School Rankings and awards
Rank 77 for MBA program offered in 2021 by India Today
In 2020, CSR GHRDC awarded JKBS as the Top Institute of India.
The 17th World Education Summit was rewarded as Outstanding B School for Best Infrastructure.
TOI has ranked 58 to JKBS for its overall academic results.
In GHRDC 2021 Rankings, JKBS secured 5th rank in North Region. 11th Rank in India and 6th rank among Top Business Schools of Superexcellence.
In the same year, it has secured 2nd Rank among Top Private B Schools in Haryana.
In IIRF 2021 Rankings, JKBS ranked 46th among Best B Schools. 21st Rank among Best Private B School in North Region.
JK Business School has received 'Certificate of Excellence in the field of Best Education Institute in Asia with the partnership by ASSOCHAM.
JK Business School PGDM Admissions
PGDM at JK B School is available in Business Analytics, Logistics & Supply Chain Management, Global Business Management, Marketing, Finance, Human Resource Management, and Digital Marketing.
JK B School Gurgaon PGDM Admission is based on the qualified cutoff marks secured in CAT/ XAT/ GMAT/ CMAT/ MAT, followed by a Personal Interview.
As a primary step, the admission authority will shortlist the candidates by considering the entrance test qualified results.
Furthermore, candidates must meet the JK B School PGDM Cut off basics. If they satisfy the cutoff and JKBS eligibility requirements, the chances of being shortlisted are high.
Later, only shortlisted students can participate in the further selection process of WAT/GD/PI.
Candidates with relevant work experience will have advantages & preferences during the JKBS PGDM selection process.
The application process in JKBS is available only in the online method, and the process is simple with the online submission of the form.
According to the government regulations, the reservation norms at JKBS are up to 5% for ST/SC/OBC category students.
For female candidates, few seats are reserved under the female quota for admissions. Relaxing in merit scores for admissions is also provided to such students to promote equality in education.
Overall, the JKBS seat allotment for all the courses is 85% for the general category students, and the other 5% of seats are filled via the ESCS category. In contrast, the remaining 10% seats are provided for Corporates/ NRI sponsored & NRI students.
JK B School Selection Parameters and Weightage
| | | |
| --- | --- | --- |
| Selection Criteria Parameters | Merit/ ESCE Category Weightage | NRI or sponsored category Weightage |
| Academic performance | 10% | 20% |
| Personal Interview | 30% | 45% |
| Work Experience | 7% | 10% |
| Reserved category | 2% | 5% |
| CAT/ MAT/ MAT/ CMAT Entrance Exam scores | 40% | Not available |
| Regional factor | 3% | 5% |
| Female applicants | 3% | 5% |
| Other aspects | 5% | 10% |
JKBS Gurgaon PGDM cutoff
The final selection criteria in JKBS is based on the candidate's academic result in their UG degree, Entrance exam scores, and performance in personal interviews and further selection rounds.
The CAT Cutoff in JKBS for admission to its flagship PGDM course is 70 percentage, and the cutoff will remain between the ranges of 70-75.
The CMAT valid cutoff in JKBS is 65. Whereas the MAT Cut off in JKBS is above 80.
The entrance exam cutoffs for CMAT and MAT are listed below.
JKBS Gurgaon CAT Cut-off 2021
CAT is the top management entrance exam accepted in most management colleges in India.
Therefore, JKBS also accepts CAT scores as a criterion to get seats for the PGDM program and here is the cutoff score accepted by the college.
| | |
| --- | --- |
| PGDM Specializations | CAT Cutoff |
| Business Analytics | 70 |
| Logistics & Supply Chain Management | 70 |
| Global Business Management | 70 |
| Marketing | 70 |
| Finance | 70 |
| Human Resource Management | 70 |
| Digital Marketing | 70 |
JKBS Gurgaon MAT Cut-off 2021
If candidates wish to apply for PGDM admission in JKBS through MAT Results, they must score equivalent to the JK B School MAT Cut off criteria or greater than it.
| | |
| --- | --- |
| PGDM Specializations | MAT Cutoff |
| Business Analytics | 80 |
| Logistics & Supply Chain Management | 80 |
| Global Business Management | 80 |
| Marketing | 80 |
| Finance | 80 |
| Human Resource Management | 80 |
| Digital Marketing | 80 |
JKBS Gurgaon CMAT Cut-off 2021
JKSB also accepts valid cutoff scores from the CMAT entrance exam.
The accepted cutoff score of CMAT in JKSB is 65 for all its PGDM offered specializations.
| | |
| --- | --- |
| PGDM Specializations | CMAT Cut-off |
| Business Analytics | 65 |
| Logistics & Supply Chain Management | 65 |
| Global Business Management | 65 |
| Marketing | 65 |
| Finance | 65 |
| Human Resource Management | 65 |
| Digital Marketing | 65 |