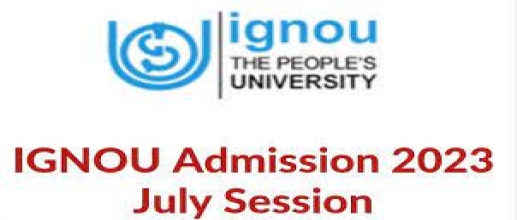 IGNOU has decided to extend the deadline for fresh admissions for the July session until September 20. Additionally, they have extended the IGNOU re-registration 2023 deadline, allowing eligible students who haven't yet applied to submit their application forms and permitting previous semester candidates to re-register on the official website, ignou.ac.in. Initially, the IGNOU 2023 Application's last date was September 10.
For fresh admission to IGNOU Open and Distance Learning (ODL) programs, students should complete their registration at ignouadmission.samarth.edu.in. On the other hand, for IGNOU online courses, candidates are instructed to apply through ignouiop.samarth.edu.in.
Regarding re-registration for the July session, the link can be found on the official website at online.ignou.ac.in. Applicants should be aware that a late fee of Rs 200 is associated with this process.
Important Dates
| | |
| --- | --- |
| Event | Date |
| IGNOU 2023 July session start date | May 15, 2023 |
| IGNOU admission 2023-July 24 Session last date | September 20, 2023 |
| Re-registration July last date | September 20, 2023 |
| IGNOU admit cards for term-end exam | November |
| IGNOU TEE Exam Date 2023 | December |
| IGNOU TEE Exam Resut 2023 | January |
| Commencement of Counselling | Notified soon |
How to apply for IGNOU Admission 2023-July 24 Session
Here are the steps to register for the IGNOU July 2023 Session:
Step 1: Visit the IGNOU Online admission portal at ignou.ac.in.
Step 2: On the homepage, locate and click the link "Fresh Admission/Re-registration for all programmes offered in ODL/Online mode for the July 2023 session has been extended till September 20 2023."
Step 3: A page will open; here, you should choose your preferred program type: Online/ODL/Distance programs.
Step 4: Register yourself and complete the IGNOU application form with the required information.
Step 5: Upload the necessary documents as specified and pay the application fee. (INR 300)
Step 6: After completing the registration, download and print a copy of the registration form for future reference.
IGNOU Admission Login
To access the IGNOU admission process, students must utilize the IGNOU Admission Login portal to create their credentials. The last date for IGNOU admission login for the July 2023 session is September 20, 2023.
Here are the steps to create IGNOU Admission credentials:
Visit the official IGNOU portal designated for admission.
Provide the following information:
User name
Email address
Contact number
Verification captcha
After entering all the required information, students can create their IGNOU Admission login credentials.
It's important to ensure you complete this step within the specified timeframe to facilitate your admission process at IGNOU.
IGNOU Admission Status 2023
Students at the IGNOU, whether newly admitted or existing students, can verify their IGNOU registration and admission status for the year 2023. After completing the IGNOU 2023 admission process for their selected programs at IGNOU, candidates need to verify the status of their IGNOU admission for the year 2023. This confirmation of IGNOU admission status can be accessed through the official portal, www.ignou.ac.in.
Here's how to check your IGNOU admission status:
Start by applying online for admission by completing the online application form on the IGNOU online admission website.
Once you have applied, log in to your account on the IGNOU website to check your admission status.
All necessary information and updates are uploaded to the official website by the university administration to facilitate student management.
To check your IGNOU admission status, you must use your enrollment number and program codes to access the admission status.
Currently, the IGNOU 2023 July session has received applications from 3.8 million applicants, and for the IGNOU January session, 2,06,304 applications were submitted on the University portal. Candidates must verify their IGNOU Admission Status on the official portal and understand the reasons for any rejections, which can be found in this article.