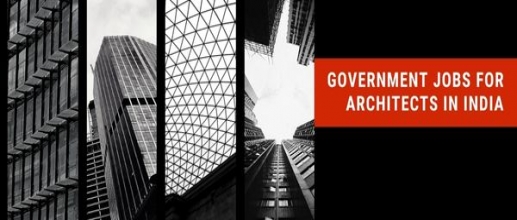 Architecture is the process and outcome of planning, designing, and constructing buildings and other physical structures. Architects create buildings often perceived as cultural symbols and works of art. Architects are needed by armies, ports, shipyards, banks, and other institutions requiring proper and planned construction. When designing a building, a good architect has the stability and beauty of the building in mind. They work according to customer needs and provide the best possible solutions. Architects should be highly creative and capable of making quick decisions.
A good architect considers safety management, materials management, and design to ensure that the built structure looks great and can withstand all weather conditions. The longevity of any built structure is something that should always be kept in mind. Candidates must have a B. Arch or M. Arch to get a good job in the government sector.
Architecture is undoubtedly challenging, and few people choose to pursue it. Some architecture students drop out, while others pursue other careers after graduation. Architecture schools do not have internships, and students are under a lot of pressure to apply for internships and get jobs. While some people prefer to work in a good architecture firm to gain experience before starting their practice, many prefer a full-time job. Fortunately, government jobs in architecture are one of the highest-paying government jobs.
The demand for infrastructure advances in India has increased dramatically in recent decades due to rapid urbanization. As a result, the Indian architecture sector offers tremendous opportunities for those pursuing a career in architecture. Candidates with a background in architecture or architecture have access to many government jobs. In addition, applicants should not hesitate to apply for construction management jobs.
Applicants with a degree such as B.Arch, B.Plan, or B.Tech in Civil Engineering or a master's degree in the same field can apply for architect jobs in various industries. Below mentioned are some of the most reputed and desired posts in the government sector after graduating from architecture:
| | |
| --- | --- |
| Government Jobs for Architects | Annual Pay |
| CPWD | 15L-20L |
| BHEL | 10L-15L |
| Department of Railway | 10L-15L |
| MOD | 15L-20L |
| Architect Head | 12L-15L |
| Interior Designer | 10L-15L |
| Cartographer | 8L-16L |
| Architect Assistant | 10L-15L |
| MES | 15L-20L |
| Deputy Architect | 15L-20L |
List of Government Jobs for Architects:
There are many Government Job Opportunities for Architects in India. Candidates in the architecture field can be recruited for various central government projects. Here are careers and employment opportunities for architects in different central government departments.
Central Public Works Department
The candidates may apply for the positions of Head Architect or Assistant Architect through the UPSC exam. CPWD's main function is construction and maintenance. For example, it is possible to construct houses, offices, schools, research institutes, hospitals, warehouses, etc.
Also includes on-campus services such as water and electricity supplies and non-structural infrastructure projects such as highways, overpasses, tunnels, bridges, piers, and sports facilities. In addition, architects provide comprehensive planning, design, construction, and maintenance services with quality assurance for all building and infrastructure projects.
BHEL As Manager Architect
BHEL, the primary responsibility is to conceptualize and capture the client's requirements for the detailed construction of the design framework. The project scope includes multi-story buildings, office buildings, industrial buildings such as PEB structures, and major infrastructure projects with modern facilities such as clean rooms; all procedures and cost formulation were done.
Railways Sector
Indian Railways, the third largest employer in the world, offers many employment opportunities. For example, rail architects can plan and design subway stations and inspect and maintain old and new rail stations, rail workshops, staff quarters, office buildings, maintenance depots, etc.
Federal Ministry of Defense
The Deputy Architect is primarily responsible for coordinating all planning activities and maintaining close contact with other disciplines involved in project planning.
Architectural Assistant Supervises, directs, and assigns tasks to the Architect's Assistant. Standards for checking drawings and dimensions ensure that drawings are accurate and complete.
Assistant architects are responsible for, among other things, preliminary and detailed drawings, floor plans, presentations, area calculations, perspectives, and 3D model creation. Drawings and bibliography lists should be kept up to date. Participated in work meetings and performed various administrative tasks. Assist the Architect and Lead Architect with administrative and technical tasks.
Government Architectural Positions Candidates who have obtained a bachelor's degree in architecture from accredited universities and are registered with the Building Council are eligible to apply for positions in government departments.
Here is a list of government career opportunities available after completing a Bachelor of Architecture degree.
Surveyor
Technical Illustrator
Contractor
Corporate Architect
Set Designer
Art Director
Landscape Architect
Section Engineer
Branch Engineer
Architectural Researcher
Architectural Engineer
State entrance exams for architects are:
MES (Military Engineering Services) and CPWD (Central Public Works Department) are posting jobs through UPSC.
The Federal Public Service Commission (UPSC) administers two civil engineering recruitment exams.
Architect (Gr B) and Deputy Architect (Gr A) titles. These appointments are rare and based on job availability.
Other Government Departments have also been hired to design municipal structures. The municipality offers a wide range of construction professions. They can help develop the interior design so each employee can stay in touch and work efficiently. In addition, they design the rooms in an environmentally and health-conscious way.
The main function of the Town and Country Planning Organization is to plan the layout of the various official buildings in the city. A city planner's job is one of the most defined. City planners plan a city's relevance at the political and technical levels. City Planner is another name for City Planner. City planners decide where to build various government buildings.
Architects Candidates with Bachelor of Architecture, Bachelor of Architecture, and Ph.D.
(Architecture), Diploma in Architecture or PG Diploma in Architecture is eligible to apply for government architectural positions.
Job openings for interior designers
Civil engineers
Industrial engineers
Art directors
Contractors
Architectural engineers
Architectural researchers
Architecture Apprenticeships
Candidates with a background in architecture can also find rewarding careers in education. University of Mizoram, IISc, MITS, IITTM, NIT, Gautam Buddha University, Aligarh Muslim University, and other prestigious educational institutions are seeking qualified candidates such as Assistant Professors, Faculty, and Teaching Assistants.
Written exams and interviews are usually part of the selection process but may include walk-in interviews. Candidates should be well-prepared for both the exam and the interview.
Additionally, candidates should thoroughly review the application process, syllabus, exam pattern, important dates, deadlines, etc.
PSU
When recruited by public companies, the candidates work in state-owned enterprises. The PSUs such as Bharat Electronics Limited (BEL), IIFCL, KIIDC, MPTDC, and APUIAML employ Project Engineers, Architects, Consultants (Tourism), Deputy General Managers, Deputy General Managers, Analysts, etc.
PSU jobs are highly rewarding in terms of perks, benefits, and excellent career opportunities. After the 7th Salary Commission, government salaries are now on par with top private companies. But all national exams are highly competitive and difficult to qualify for, but the entrance exam for architects is the same. Architects should therefore develop a solid readiness strategy for government work.
But sometimes, the question arises: What is the architecture sector in India?
The construction sector in India is attractive as it is a highly-paid job that offers a lot of growth and development. Architects are in high demand as rapid urbanization leads to infrastructure development. After graduation or postgraduate studies, candidates can work for architectural firms, government agencies, consultancy firms, archaeological departments, urban development agencies, construction firms, and various government housing associations.
You can work for many housing associations and government agencies that develop roads, railways, irrigation systems, and buildings. After gaining extensive experience, architectural professionals can work independently or participate in various freelance projects.
What skills are compulsory for a career in architecture?
Building a rewarding career in architecture requires the following core competencies. A creative flair and an understanding of architectural styles, in general, are essential for a successful career in the construction industry. In addition, creativity in this profession helps solve and improve problems in building design and construction.
Drawing and Drafting Skills
Architects use software or paper to sketch a building design and show what the result will look like. Design buildings that maximize the use of space using various drawing software. Drafting or drafting skills are required to create engineering plans, elevations, and concept sketches. Knowing how to communicate ideas through hand-drawn sketches and sophisticated designs can lead to a rewarding career.
Research Skills
When creating a place of worship, these professionals often research cultural information that can influence a particular design. For accurate and beautiful design, we thoroughly research the architectural style that satisfies the design requirements. The ability to conduct systematic research to gather facts and create designs is essential for this role.
Customer Service
Architects work closely with clients on building projects. Having good customer service skills is critical to optimizing customer interactions. Customer service includes several qualities: communication, active listening, empathy, and problem-solving. The ability to service dissatisfied or dissatisfied customers is essential for a career in the construction industry.
Teamwork
Many professionals, such as lawyers, contractors, and civil servants, work on construction projects, so these professionals need good teamwork skills.
Various Architecture Careers in the Corporate field
Working in the field of architecture offers many career opportunities. Some common architect careers include:
Interior Designer: Average Salary: Rs 45K per month
Primary Responsibilities: Interior Designers are professionals who incorporate the art of design and architecture to make spaces functional, safe, and aesthetically pleasing. These specialists focus on combining building materials, artistic elements, and structural elements.
Before planning begins, these professionals assess the space's surrounding environment, study natural lighting, and understand potential planning feasibility. These experts visit the site to monitor the progress of design and construction work. Interior designers focus on creating sustainable design options in their designs and creations.
Architect: Average Salary: Rs 40K per month
Primary Responsibilities: Architects prepare design plans for building development projects. These professionals use their analytical, technical, scientific, and creative skills to create building drawings and sketches. In addition, these professionals often work with other professionals to ensure that the building complies with various government rules and regulations.
Investigate the environment around the construction site to determine whether it is safe to construct the building. These professionals can work as residential architects designing homes for private clients or as industrial architects designing airports, storage facilities, and power plants.
Urban Planner
Average Salary: Rs 70K per month
Main Responsibilities: Urban Planners or Land Planners are responsible for designing and developing urban areas such as cities and towns. They assess urban land developments and work with local officials to ensure projects comply with city or city rules and regulations.
They use their architectural knowledge to work with transport engineers, surveyors, and other professionals. These experts collect data and make recommendations to local governments to ensure the healthy development of cities and communities.
Landscape Architect
Average Salary: Rs 60K per month
Primary Responsibilities: Landscape Architects are architects who create beautiful outdoor spaces. These professionals design urban and rural aesthetics and designs. They plan, advise and manage external properties such as residential, industrial, and commercial properties. A landscape architect will survey the site and advise on environmental protection issues. These professionals build a model of the space they are building. Building models include trees, walkways, structures, and bodies of water.
In the above article, we discussed some opportunities for students who graduate from the architecture and planning field to grow and build their careers in the government sector. Hope you would have understood some of the field's information and figured out if you want to pursue your career in the government or corporate sector.