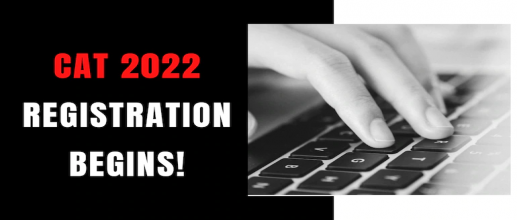 The moment many students have been waiting for has finally arrived! The 2022 CAT exam date has been announced by CAT 2022 Convenor. The Indian Institutes of Management (IIMs) have announced the dates of the Common Admission Test (CAT) exam, the gateway to getting into one of the IIMs.
CAT 2022 Registration Begins on August 03, 2022, at 10 am to September 14, 2022, at 5 pm, and this article details everything you need to know about it—from how to register to what to do if you miss the window. Read on!
The Structure Of The Exam
The CAT entrance exam is a standardized test that is required for admission into most MBA programs in India. The CAT registration process for the 2022 exam has begun and will continue until the CAT registration 2022 last date, which has been announced( September).
The CAT exam 2022 Registration date has also not been announced, but it is typically held in November. CAT Exam Registration usually begins on or before August in the year prior to the examination (i.e., 2022) and continues until one month before the examination (i.e., November).
Only those who have submitted their applications can register for the CAT Online Test or CBT examination. On the other end, If there are applicants who want to take a paper-pencil version of the test at any time before the CAT Examination, can take a paper-pencil practice test from online resources.
CAT Important Dates And Deadlines
The registration for the CAT 2022 examination has begun on AUG 3, 2022, Wednesday and will continue until September 2022. The CAT registration 2022 the last date is SEP 14, 2022, Wednesday at 5:00 PM (IST).
The admit card will be available for download from the official website on OCT 27, 2022, Thursday. The CAT exam will be held on NOV 27, 2022, Sunday. So, make sure to follow these dates and buck up with your preparation and revisions. It's time to ace this competition!
How To Register CAT
The registration process for the CAT Examination is now open. Here's what you need to know in order to register:
The registration fee is Rs, 2300 for candidates of the General category and Rs. 1150 for SC, ST, and PwD candidates. 2022 CAT exam date fee can be paid online via credit card.
You will need to create an account on the CAT website in order to register.
To register, candidates must first create an account on the official CAT website. After logging in, candidates will be able to fill out the application form and pay the registration fee.
Important- Candidates should make sure they have all the required documents ready before beginning the registration process, as they will need to upload them during the application process.
Once the registration form and fee have been submitted, candidates will receive a confirmation email from the CAT examiners.
Test dates are available on a first-come, first-served basis, so it is important to register as soon as possible.
The deadline to register for the CAT Examination is September 14, 2022.
CAT Exam Pattern
Students need to work through the exam pattern after going through the CAT entrance exam 2022 Registration date and its process. Let us look at the exam pattern of the CAT Examination. The CAT exam is a computer-based test that evaluates a candidate's quantitative, verbal, and reading comprehension skills.
The test is divided into three sections -
Quantitative Aptitude (QA)
Verbal Ability (VA)
Reading Comprehension (RC)
Candidates are allotted 60 minutes for each section. There is no negative marking for wrong answers. Each question has 4 options with one correct answer. For each question, the student can choose one of the four options and select it as the answer.
Once an option is selected as the answer, it cannot be changed. Students have to take at least ten questions from each section of the paper in order to pass the exam successfully. They will get a certain number of marks for each question depending on its difficulty level.
The time limit is 1 hour per essay and you may use a calculator during the entire course. All formulas needed should be provided within your online textbook but if they're not then we recommend that you do some additional research or find out what they are so that you don't waste any time during your exam trying to work them out yourself!
Conclusion
The 2022 CAT exam date has been announced and it is now open for registration. This year, the CAT exam will be held on November 27, 2022. The CAT registration 2022 last date to register for the exam is September 14, 2022. If you are planning on taking the CAT exam, here are a few things you need to know.
First and foremost, make sure you meet the eligibility criteria. To be eligible, you must have a bachelor's degree with at least 50% marks in aggregate from a recognized university. You must also have valid ID proof such as a PAN card, Aadhar card, passport, etc.
Secondly, start preparing for the exam well in advance. The CAT exam is not easy and requires dedication and hard work. It would be wise to start studying well in advance so that you can improve your chances of getting good scores.
Lastly, keep your eyes peeled because we're coming up with another blog post next week which discusses how preparation can positively impact your performance!