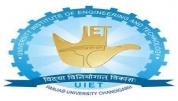 University Institute of Engineering and Technology Fees Structure
Courses & Fee of University Institute of Engineering and Technology
Master of Engineering/Technology
| Specialization | Duration | Total Fees (Approx) |
| --- | --- | --- |
| Automobile Engineering | 2 years, fulltime | Rs. 0.4 Lakhs |
| Civil Engineering | 2 years, fulltime | Rs. 0.4 Lakhs |
| Computer Science Engineering | 2 years, fulltime | Rs. 0.4 Lakhs |
| Electrical Engineering | 2 years, fulltime | Rs. 0.4 Lakhs |
| Information Technology | 2 years, fulltime | Rs. 0.4 Lakhs |
| Mechanical Engineering | 2 years, fulltime | Rs. 0.4 Lakhs |
| Specialization | Duration | Total Fees (Approx) |
| --- | --- | --- |
| Automobile Engineering | 4 years, fulltime | Rs. 3 Lakhs |
| Chemical Engineering | 4 years, fulltime | Rs. 3 Lakhs |
| Civil Engineering | 4 years, fulltime | Rs. 3 Lakhs |
| Computer Science Engineering | 4 years, fulltime | Rs. 3 Lakhs |
| Electrical Engineering | 4 years, fulltime | Rs. 3 Lakhs |
| Information Technology | 4 years, fulltime | Rs. 3 Lakhs |
| Mechanical Engineering | 4 years, fulltime | Rs. 3 Lakhs |
| Petroleum Engineering | 4 years, fulltime | Rs. 3 Lakhs |
| Electronics & Communication Engineering | 4 years, fulltime | Rs. 3 Lakhs |
| Mechatronics | 4 years, fulltime | Rs. 3 Lakhs |
| Aerospace engineering | 4 years, fulltime | Rs. 3 Lakhs |
Photo Gallery
Watch Videos
Asked question about UIET fees structure and courses
Full details?
asked by Jyoti
What is the fee for biotechnology course with hostel charge ....?
asked by Nikhil raj
I get 32693(gnop)and4619(gngl) in upsee should i get admission ?
asked by Charu garg
will i get mhrd scholarship in uiet chandigarh , if im gate qualified for m.tech (m.e)?
asked by sumit kumar
Need Advice! Ask the question, We would be happy to help you.
Ask an Expert
Interested in University Institute of Engineering and Technology
Most Searched Engineering Colleges in Chandigarh