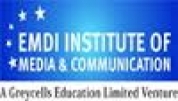 EMDI Institute of Media & Communication Indore Fees Structure
EMDI Institute of Media & Communication Indore Fee Structure
| Specialization | Duration | Total Fees (Approx) |
| --- | --- | --- |
| PGDM in Event Management | 2 years, fulltime | Apply |
Diploma in Engineering at EMDI Institute of Media & Communication Indore
| Specialization | Duration | Total Fees (Approx) |
| --- | --- | --- |
| Diploma in Managment | 3 years, fulltime | Apply |
Photo Gallery
Reviews
Asked question about EMDI fees structure and courses
What is PGDM course fee in this college??
Asked by Guest
---
---
what is the fees of different courses at EMDI??
Asked by neelam mirchandani
---
in indore?
Asked by Sakshi goswami
---
About fee structure and eligilbliy criteria?
Asked by Saloni taknet
---
Fees for the year and in how many installment it should be paid????
Asked by charuta parchure
---
Sir/madam Information about diploma and degree course for radio jocky . ?
Asked by manish kumar
---
Interested in EMDI Institute of Media & Communication Indore
Most Searched MBA Colleges in Indore