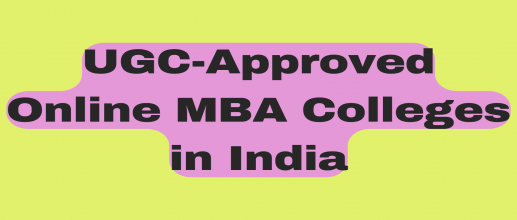 An Online MBA program is a great way to enhance your career prospects. With the arrival of online education, you can now earn a UGC-approved MBA degree from the comfort of your own home. This article explores UGC-approved online MBA colleges in India, offering an understanding of the benefits and opportunities they provide.

Top 5 UGC-Approved Online MBA Colleges in India 2023
The demand for higher education increases for freshers and working professionals. With the rapid advancements in technology, it has become even more important to have management and leadership skills. It has led to many students opting for an online MBA course. Enrolling in online MBA courses is easy because they don't have to sacrifice their jobs or careers.
Narsee Monjee Institute of Management Studies OR NMIMS:
The University was established in 1981 and is present in various locations. It offers UG, PG, and several other courses in 17 specialized areas, such as NMIMS, also known for its excellent placement records and many scholarships.
Why Choose NMIMS?
It is also a good choice for those looking to do an Online MBA at an affordable cost.
The program is relatively less expensive than regular MBA programs.
Moreover, students can also avail themselves of the scholarship opportunities.
Eligibility Criteria
Candidates must have a bachelor's degree with at least 50% marks in their discipline.
The aspirants can fill out the admission form on the official website.
NMIMS Online MBA Specialization
Banking and Finance Management
Business Management
Financial Management
Human Resource Management
Information Technology and Systems Management
International Trade Management
Marketing Management
Operations Management
Retail Management
Supply Chain Management
The Online MBA program aims at developing business leaders with the latest managerial tools and techniques.
It prepares students for a successful career in management. The program offers a complete curriculum that covers 12 essential industrial-oriented specializations.
Why Choose Amity?
The University's online MBA program offers a flexible schedule, making it easy for busy professionals to study.
It offers a variety of online resources, including study materials, virtual classrooms, and webinars.
The University's extensive support system and professional development framework ensure that students get the best support in achieving their career goals.
Eligibility Criteria
Bachelor's degree from a recognized university.
The degree must be in a relevant subject, such as business administration, marketing, or finance.

ICFAI University:
The ICFAI University Online MBA program focuses on the core concepts of management. It gives you the abilities, information, and strategic viewpoints important for business leadership skills.
The program has four modules, each of which consists of five subjects. Students must choose from five elective subjects in each module besides core subjects.
Why Choose ICFAI?
The learning experience at the University is good, and you can gain knowledge of business concepts.
It makes you a problem solver at the workplace so you can effectively manage and solve problems easily.
Application Process
To apply for the University's Online MBA program, visit its official website.
You can find the " Online MBA" link on the homepage.
Click on it to download the program prospectus and application form.

Jain University:
Jain University is a reputed private university. The University is accredited by NAAC with an 'A++' grade and is recognized by the UGC.
t also has strong partnerships with leading organizations in India and abroad to provide its students with the best learning opportunities. Jain Online MBA is popular amongst working professionals.
Why Choose Jain University?
A reputed university can provide students with career options without discipline.
The University's courses are also affordable and easily accessible to students.
The University offers various scholarships to qualifying students.
Online MBA Course Specialization
Marketing
Finance
Human Resource Management
Marketing and Finance
Finance and HRM
Marketing and HRM
Entrepreneurship and leadership
Logistics and Supply Chain Management
Healthcare Management
Project Management
Information Technology Management
Data Science and Business Analytics
General Management
Operations
Digital Marketing &
E-Commerce
It offers students various undergraduate, postgraduate, diploma, and certification courses. The institute has an excellent reputation for delivering high-quality education.
The National Board of Accreditation accredits it. The University is also known for its specialized degrees in different fields, including management.
Why Choose DY Patil University?
The e-learning platform offered by the University is state-of-the-art and includes a range of features.
It includes a digital library and a wide variety of e-resources, webinars with industry experts and professionals, virtual group discussions with classmates, and more.
Online MBA Course Specialization
Sales And Marketing
Finance
Retail Management
International Business
Logistics & Supply Chain Management
Human Resource Management
Entrepreneurship Management
Hospital And Healthcare Management
Event Management
Hospitality Management