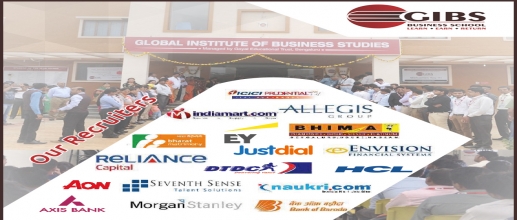 Global Institute of Business Studies has achieved a distinctive status among business schools in Karnataka state and across the country. GIBS reminds that age is no factor when it comes to successful institutions. The new world of the 21st century has witnessed many successful startups and several in Bangalore that came up with extraordinary new ideas and vibrant approaches. Yet, can the long drawn out process of education be compared to fast food or transport where some of the internet app-based businesses are doing so well?
Besides the MBA that has become the hallmark for business education worldwide and is considered a certain passport for professional success, other courses are available too. PGDM, BBA and BCom would all launch business careers with the right internships and placements.
The changing face of education is clear at all levels, starting from the early stages of school right up to the professional tertiary education. Though literacy is a much desired commodity worldwide, education without a meaningful source of job income becomes quite irrelevant for the masses, especially now that populations are burgeoning and the planet is suffering. One wonders what the 1.2 billion Indian population was like in 1950. Consider the subjects taught in higher education and the many new areas of study like media and information technology indicate how the world is changing. Business too was introduced rather recently during the last few decades and nowadays too many institutes teach business management.
How has education changed?
The traditional approach to study that has endured for hundreds, thousands of years based on bookish contemplative study is now changing and becoming more activity-based and dynamic too. Research proves that the use of images and videos, group action, participation and interactivity in the teaching-learning process are far more effective to promote authentic learning. A very important cause of change is the digital media that provides ample opportunity for involvement and it is never a dull moment whether in study or in jobs.
Classrooms with their smartboards and audio-visual experiences with the whole world accessible through the internet have become the new focus of study. Students actively participate in the educational processes rather than being mute spectators like in the past. Role play, games, peer cooperation, field visits and internships are some experiences that are constantly ongoing and provide a brand new focus where intellectual, physical and spiritual development happens simultaneously.
Yet, the common idea of study and knowledge originating in books still holds. In spite of the vast spread of the electronic media, book publishing and research journals are only increasing in numbers, though we still talk of the reading culture at an ebb. While it is possible to communicate lessons in pen drives and videos, it is the hard copy that seems more convincing rather then the airy, dreamy software-based media that is now everywhere.
The corporate ambience at GIBS Business School
A visit to the green 4.5-acre campus replete with the best educational infrastructure at Bannerghatta on the outskirts of Bangalore is thoroughly convincing. One would expect a business school to be very well-organized in all it dealings. And so it is out there in a campus that has already built hundreds of careers. It is a world away from the hustle and hustle of the big city and far removed from the ambience of the home. A hostel environment is particularly suited for intensive study where the mind can concentrate fully on the subjects and activities. The rising sun each day is a signal for new learning and activities, field visits perhaps or committee activities, functions, guest speakers, besides the usual give and take in classrooms.
Affiliated to Bangalore University and managed by Goyal Educational Trust, the business-like approach to education is visible in all the aspects. Whether you consider brand management, advertising, marketing, media, raw materials, products and services, finance and management, publicity and international relations, they would all apply in some form or the other to GIBS that goes from one success to the other.
Market research, public relations and brand management
GIBS provides capable business managers to a wide range of big businesses, many of whom have set up branches, research centers and outlets in Bangalore. In terms of business efficiency like in the areas of market research, public relations and brand management, among many others, GIBS practices the same skills that they teach the students for future applications. Systematic operations as an educational unit that is closely focused on actual industry needs provides the right approach for the students who can hope for the best job opportunities at the end of the course and success as they pursue the careers.
In a materialistic world that worships monetary values above everything else, the business lesson needs to be applied to all endeavors for the sake of efficiency and reliability. Whether it is a wayside shop or a showroom in the mall, the similar requirements of finance, materials and workers apply, whether dealing in products or services. A house too is somewhat similar from several points of view. Experience and expertise, management of money, workers and materials would apply to the great majority of entities across the world.