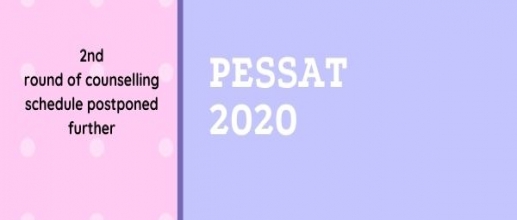 PES University, Bangalore has been postponed the PESSAT 2020 second round of counselling session. Previously, the counselling session was supposed to be held on 17th & 18th October 2020.However, concerned admission committee decided to held the 2nd round of PESSAT 2020 counselling session by 4th week of October, exact counselling dates for round 2 will be announced soon on its respective website. Such that, candidates are advised to check frequently for the latest updates by logging to the official website of PES University.
In order to take part in PESSAT 2020 Counselling session, primarily candidates required to register themselves for the counselling session by entering the required details like registration number and date of birth details.1st round of PESSAT 2020 Counselling session was successfully conducted between 18th to 20th September 2020.
Also, concerned admission authorities have been extended the last date for submitting original documents. Candidates who secured admission seat in 1st round of counselling session can submit their relevant educational documents for the verification process till 20th October 2020.Previously, last date to submit the original documents was supposed to be closed by 15th October 2020.
Students who qualified in PESSAT 2020 entrance examination which was held between 1st to 20th August 2020 and from 2nd to 3rd September 2020, such candidates are eligible to take part in the PESSAT 2020 counselling session as per the prescribed schedule.
PESSAT is a university-level entrance examination which will be held every year by PES University, Bangalore in order to provide admission into UG & PG Courses which is offered by the respective university. Selection of the candidates for admission at PES University will be done on the basis of candidates score in PESSAT 2020 and based on the performance in personal interview.
In PES University, for B Tech Programme 60% of seats will be reserved for the candidates who secured PESSAT entrance exam and remaining 40% of seats will be filled through KCET score. However, major preference will be given for the candidates who qualified in PESSAT 2020 examination.