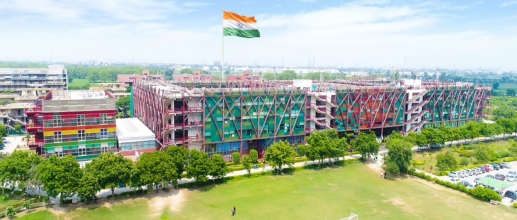 Jindal Global Business School, commonly known as the JGBS. It is among one of the leading B-Schools of India, imparting multidisciplinary global management education to nurture academic excellence through global collaborations as well industry Partnerships. This B School is located at Sonipat, Haryana. JGBS Sonipat is a component part of UGC approved O.P. Jindal Global University. The institution was established in early 2010 to impart management education. The institute has been accredited by the National Assessment & Accreditation Council, NAAC. Available Courses at Jindal B School are MBA, BBA (Hons), BBA+MBA integrated five-year course. Faculties at JGBS are highly experienced and have a strong academic background. Most of the faculties have been graduated from Oxford, Harvard, IIMs, IITs, XLRI, ISB.
JGBS Sonipat has collaborated with various renowned international institutions and universities. Some of the Universities are Singapore Management University located in Singapore, US universities such as Yale University, Brown University, Queen Mary University Of London, University of Cambridge, Oxford University, and Goethe University.
Jindal B School Sonipat ranking
The Outlook ranked JGBS 3rd in the overall category in 2021.
In 2019, India Today ranked JGBS Sonipat 77th for the MBA category.
JGBS Sonipat has also achieved 77th rank out of 250 MBA colleges.
The institution has also been ranked 42nd in the category of top 150 MBA colleges.
Jindal B School MBA Admission Process
JGBS Sonipat offers full-time on-campus MBA degree courses. The course is conducted at the postgraduate level.
The MBA program is conducted in the field of Management studies. The duration of the MBA program at JGBS Sonipat is 2 years, divided equally into 4 semesters.
MBA at Jindal B School is available in two different streams they are: MBA in Business Analytics Management and MBA in Digital Finance and Banking Management
For admission in the MBA degree program, JGBS Sonipat offers an online mode of application and entrance exam mode of admission.
The candidates will have to satisfy the Jindal B School MBA Cut off as the first step of admission.
The national level examinations accepted by the JGBS Sonipat are CAT/ MAT/ NMAT/ XAT/ CMAT/ GMAT/ ATMA.
The candidates will be considered eligible to apply to the MBA course if they pass the below-mentioned eligibility criteria. OP Jindal University lays down the MBA eligibility criteria.
The candidates applying for the MBA admission at JGBS Sonipat must have passed any graduation-level degree course.
The degree program should have been conducted under any stream or discipline.
The applicants are required to achieve a minimum score of 50% marks in all of the subjects calculated together at graduation level.
JGBS Sonipat MBA selection criteria
To be shortlisted for MBA admission in OP Jindal B School, candidates must try to reach the JGBS Sonipat Cut off criteria.
For each accepted entrance tests, there will be different cut off score. Before applying for admission, candidates must make sure the cut off score for the specific entrance test which they have been qualified. CAT/ MAT/ NMAT/ XAT/ CMAT/ GMAT/ ATMA.
The candidates shortlisted based on the JGBS MBA cutoff will be called by the institution for another round of interviews and a group discussion round.
The candidates will be evaluated based on their entrance examination score and performance in the PI and GD rounds. The candidates will also be evaluated through their prior academic achievements such as 10th score, 12th board score, and score achieved at the graduation level.
JGBS Sonipat GMAT cutoff for 2020
| | |
| --- | --- |
| Course specializations | Cutoff score |
| MBA in Human Resource Management | 400 |
| MBA in Finance Management | 400 |
| MBA in Sales and Marketing Management | 400 |
| MBA in Organizational Behavior Management | 400 |
| MBA in Supply Chain Management | 400 |
| MBA in Strategic Management | 400 |
JGBS Sonipat CAT cutoff for 2020/2019
| | | |
| --- | --- | --- |
| Section | Cutoff percentile for 2020 | Cutoff percentile for 2019 |
| VRC Category | 25 percentile | 25 percentile |
| DILR category | 25 percentile | 25 percentile |
| QA category | 25 percentile | 25 percentile |
| Total | 25 percentile | 25 percentile |
JGBS Sonipat CAT cutoff for 2016
| | |
| --- | --- |
| Course specializations | Cutoff percentile |
| MBA in Human Resource Management | 60 percentile |
| MBA in Finance Management | 60 percentile |
| MBA in Sales and Marketing Management | 60 percentile |
| MBA in Sales and Banking Management | 65 percentile |
| MBA general | 61 percentile |
| MBA in Information technology | 60 percentile |