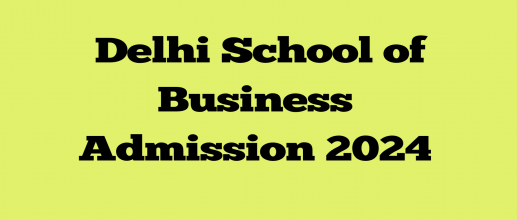 The Delhi School of Business (DSB), Delhi, has initiated the application process for postgraduate and fellowship programs in the management field. Admissions for 2024 are open for PGDM General, PGDM Fintech, and FPM programs. Prospective candidates meeting the eligibility criteria can visit the official website at dsb.edu.in. To apply for the Delhi School of Business PGDM Admission 2024, interested candidates need to complete the registration online. It involves submitting the necessary details and paying the application fees, which vary based on the chosen course.
For DSB Delhi admissions in 2024, candidates will undergo a shortlisting process based on their CAT, XAT, MAT, CMAT, NMAT, or GMAT scores. The application for DSB PGDM admissions in 2024 can be completed in both online & offline modes. Applicants are advised to thoroughly review the detailed eligibility criteria & other essential information beforehand to prevent any discrepancies in the Delhi School of Business application process.
| | |
| --- | --- |
| Course name | Delhi School of Business Fee structure |
| PGDM general | Rs. 8.9 Lakhs |
| PGDM fintech | Rs. 8.9 Lakhs |
Delhi School of Business Application Fees
| | |
| --- | --- |
| Events | Fees |
| Application fee (PGDM general and fintech) | Rs. 1200 |
| FPM | Rs. 2000 |
| Application mode | Online/Offline |
Delhi School of Business Eligibility Criteria
A bachelor's degree from an accredited university with at least 50% of the possible points or an equivalent CGPA. Candidates who are PwD, SC, or ST must receive at least 45% of the possible points.
Candidates must have passed admission tests such as the CAT, XAT, CMAT, GMAT, MAT, ATMA, or an equivalent.
Delhi School of Business Selection Process
First, candidates will be narrowed down based on their genuine CAT, XAT, MAT, NMAT, and CMAT scores.
The cumulative score requirements, which include the entrance exam result, group discussion, in-person interview, academic profile, and job experience, will determine the final merit list for DSB Delhi admissions in 2024.
Additionally, students are mandated to satisfy the Delhi School of Business Cutoff 2024.
Delhi School of Business Application Form 2024
To be considered for admission to the PGDM program, applicants need to complete an online application form and ensure adherence to the stipulated application deadline mentioned on the official website to avoid any repercussions.
Here's a step-by-step guide:
Visit DSB's Official Site: Go to the main website of DSB at https://dsb.nopaperforms.com/.
Complete Application Form: Fill out the application form provided on the website and ensure to attach any required supporting documents.
Pay Application Fee: The application fee is 1,200 Indian rupees (INR). Make this payment online through the website.
Retrieve Application Fee Receipt: Once the application fee is paid in full, applicants can obtain a hard copy of the receipt for the payment from the site.
Access Application Form for Remaining Steps: Applicants will need to access the application form again to complete the remaining steps in the application process. Optionally, they can choose to take a printout of their application form if necessary. Submit it before the Delhi School of Business admission's last date 2024.
Unique Application ID: After the completed application form is submitted, a unique application ID and reference number will be generated. Applicants will use this registration number to proceed with the rest of the application steps.