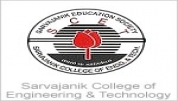 Sarvajanik College of Engineering and Technology Fees Structure
Courses & Fee of Sarvajanik College of Engineering and Technology
Bachelor of Engineering/Technology (B.E/B.Tech)
| Specialization | Duration | Total Fees (Approx) |
| --- | --- | --- |
| Chemical Engineering | 4.0 years, fulltime | Apply |
| Civil Engineering | 4.0 years, fulltime | Apply |
| Computer Science Engineering | 4.0 years, fulltime | Apply |
| Electrical Engineering | 4.0 years, fulltime | Apply |
| Information Technology | 4.0 years, fulltime | Apply |
| Textile Engineering | 4.0 years, fulltime | Apply |
Asked question about SCET fees structure and courses
Can u please tell me the nri quota donation for computer science branch?
asked by Karatela Anas
Fees struture?
asked by Vishal
What is the fee structure For Electrical Engineering 2018???
asked by Yash Gohel
Whats the fees structure for mechanical engineering??
asked by Karamveer arora
How much Fee yearly?
asked by Nikita A Pandit
fees for management quota?
asked by HIMANSHU DESAI
Fees structure for IT????
asked by Kuldeep singh
Need Advice! Ask the question, We would be happy to help you.
Ask an Expert
Interested in Sarvajanik College of Engineering and Technology
Most Searched Engineering Colleges in Gujarat