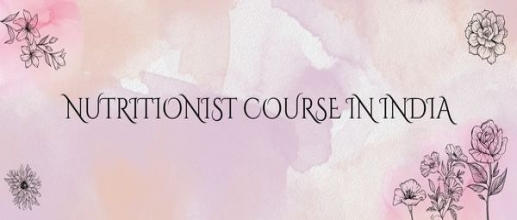 Want to become a Nutritionist? Are you searching for nutrition courses in India? This article will discuss nutrition, similar courses, scope, job opportunities, etc.
In India, nutrition programs have become a lifestyle. Therefore, numerous institutes or colleges are providing nutrition science courses. In Nutrition Science courses, the highly focused topics are metabolism, metabolic pathways, physiological responses to diet, biochemical mechanisms, etc.
What is the main aim of Nutrition Science courses? So basically, giving students scientific knowledge and fundamental sciences of nutrition concepts is the main aim of the course. During the course, the students gain knowledge of clinical nutrition, diet science, sports nutrition, public health nutrition, etc. The Nutrition courses are available in both online and offline modes.
Highlights of Nutrition Science Courses
| | |
| --- | --- |
| Course | Highlights |
| Duration | 3-4 years |
| Eligibility Criteria | 12th |
| Age limit | Min. 17 years |
| Minimum Percentage | 50% |
| Job areas | Hospitals, Healthcare organizations, government healthcare departments, etc. |
| Average Salary | INR 2-5 LPA |
About Nutrition Course
One can do a nutrition full-time, part-time, certificate, or diploma.
Bachelor: It is a complete undergraduate or bachelor's degree course named BSc. in Nutrition Science. The duration of this course is 3-4 years. Once a student completes 12th can enroll in this course. It is a full-time course with regular classes.
Masters: MSc. in Nutrition Science can be done after a bachelor's degree. It is a specialization course of 2-3 years. After that, it is a full-time course with regular classes.
Diploma & PG Diploma: These are mainly 1-2 years courses that include food science and dietetics.
Certificate: The certificate courses are offered by some institutes. The extent of the course is 6 months to 1 year.
Best Nutrition Courses In India
A student can pursue the nutrition science undergraduate, postgraduate, diploma, or short-term certificate courses. The best nutritionist courses in India are:
BSc. in Nutrition & Dietetics (UG)
MSc and MPhil in Nutrition & Dietetics (PG)
Nutrition & Dietetics (Diploma)
Clinical Nutrition and Dietetics (PG Diploma)
Sports Nutrition to Basic Nutrition (Certificate)
Description of Nutrition Courses in India
BSc. in Nutrition & Dietetics: It is an undergraduate course of 3-years. A student can apply for this course after completing the 12th. It is considered the best alternative option for students who cannot crack the MBBS exam. The chief purpose of the course is to study the medical terms and terminologies and nutrition chart formulation as per the patient's medical condition. After completing a BSc Nutrition average salary range is 2-5 LPA.
MSc. in Nutrition & Dietetics: It is a postgraduate course of 2 years. It mainly deals with the important factors linked to a kid's health. The topics taught to the student are fundamental nutrition and diet, nutrition and dietetics research, etc. After MSc. in Nutrition and Dietetics, there are several options for jobs ranging from healthcare to technology. The average salary of a candidate after this course is 3-5 LPA.
Diploma in Nutrition & Dietetics: A diploma course is a 1-year course in Nutrition and Dietetics. It gives you the knowledge and learning about medical science that helps to keep an individual fit. The main topics that the diploma program covers are human physiology and nutrients. A student can learn to make a patient diet chart according to their medical conditions. The average salary is 2-4 LPA.
PG Diploma in Clinical Nutrition and Dietetics: A PG diploma course is a 1-2 years program in Clinical Nutrition and Dietetics. This course teaches the diagnosis and cure of diseases such as Diabetes Mellitus, Heart Disease, Cancer, etc. In addition, the implementation of various clinical nutrition topics is available in this course. An organization's average salary package for a PG diploma student is 3-4 LPA.
Nutrition Course Online
In India, nutritionist courses online are available. The list of the courses available online are mentioned below:
Advanced Diploma in Diet and Nutrition - It is a 1-year diploma course divided into various modules. It helps the student grasp the concept of diet and nutrition quickly and quickly, along with complete knowledge.
Certificate in Dietetics - It is a short-term online certificate course that ends in 6 months or 1-year. Basically, the main aim of this course is to give students good knowledge and skills in diet and nutrition by covering the major topics of nutrition science.
What are the Eligibility Criteria for a Nutrition Course?
The nutritionist course eligibility criteria are different for every level.
For bachelor's degree courses, a student should be a 12th pass out with physics, chemistry, and biology as the core subjects. The minimum percentage for admission is 50%, but it may vary from college to college.
For a master's degree course, a student should have a UG degree in the same or similar fields.
Nutrition Course Fees
The course fees for the nutritionist course vary from university to university. It also differs as per the degree. For example -
The annual fees range for a UG degree course is from 17000 to 6.7 lakh.
The annual fees range for a PG degree course is from 25000 to 6.2 lakh.
The annual fees range for a diploma course is from 8000 to 1.2 lakh.
What is the scope of nutrition courses in India?
Nutritionist course pass-out candidates have a huge scope in India. The best job positions for a nutritionist are:
Clinical nutritionist
Community nutritionist
Management nutritionist
Consultant nutritionist
The available career options that open for the aspirants after the nutritionist course are:
Food nutrition service in hospitals
Nutrition counseling in public health agencies and fitness clubs
Clinical management in food service systems
In private hospitals, if a candidate works as a trainee, the salary starts from 10000 per month, which goes up to 35000 per month with experience. The list of major job roles in which nutritionists and dietitians can apply are:
Consultants
Food show host
Research
Sports nutritionist
Therapeutic nutritionist
Administrative nutritionist
Nutrition sales executive
Nutrition trainee