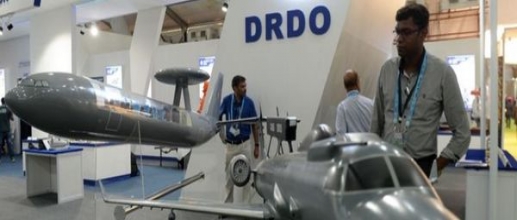 The DRDO is the country's top defense research organization dedicated to developing the latest defense systems and technologies. In addition to its primary functions, the organization also undertakes external research and assists in grant-in-aid schemes. The technology transfer offered by this esteemed organization is essential for the defense products for military and civilian markets. To ensure top-notch quality in its operations and the latest technologies, the government is searching for talented scientists and professionals and has rigorous DRDO recruitment.
The interesting fact about DRDO is that it is an autonomous body that develops its own technology and has arrived to sell it. In terms of professionals looking for employment in this organization, this would mean reputed designations and a higher degree of entrepreneurship. Although one needs a technical academic background for the technical posts, aspirants can apply for shop assistant roles if they are wondering how to join DRDO without GATE
What is DRDO?
The Defense Research and Development Organisation (DRDO) is an Indian government agency that is responsible for research and development in the defense sector. It falls under the administrative control of the Ministry of Defense. DRDO's primary focus is on developing technologies or equipment for defensive warfare, making it a vital player in India's defense system.
DRDO has 52 labs throughout India. The labs focus on various defense technologies, such as aeronautics, land combat engineering, life sciences, missiles and naval systems, armaments, and materials. It would be helpful if you're wondering how to join DRDO as an engineer. The DRDO's rigorous iterative processes are made possible by many engineers, scientists, and support staff working around the clock.
How to Apply to DRDO?
Many people often see joining DRDO as a dream job, but certain steps must be followed to apply. There are certain steps to follow and eligibility criteria to fulfill for it to happen :
Step 1: The SET exam is an important requirement for applicants seeking employment with the Defense Research and Development Organization (DRDO). The exam application will be found online on the DRDO website.
Step 2: To apply to the DRDO, you must click on the advertisement tab.
Step 3: The candidates must enter their email addresses and password to log in.
Step 4: The DRDO recruitment tab is where candidates should click to find out more about the job vacancy
Step 5: Candidates will be directed to the DRDO application form tab.
Step 6: The applicants must provide detailed and accurate information on their details, including their name, date of birth, gender, parent's name, and educational qualifications. Additionally, they must provide contact information in local areas.
Step 7: If you are applying for the job, you must upload documents showing your education and work experience. It includes things like your marks sheets and testimonials.
Step 8: Candidates must review all the information before submitting a form.
Step 9: You must pay a DRDO Recruitment application fee of 100 rupees (or equivalent). The fee is payable online only for General and OBC (male) candidates, while SC/ST/Women/PwD candidates are exempt.
Step 10: After submitting the application form, candidates must take a copy of the form to send it to the address listed below:
To the Director, the Centre for Airborne Systems (CABS), DRDO, Ministry of Defence, Belur, Yemlur Post, Bengaluru - 560037.
Step 11: Candidates should keep a copy of their online application form and the acknowledgment slip they receive after filling out the form for future use.
DRDO Eligibility Criteria
To work at DRDO, you must first meet certain requirements. To clear your doubts about how to join DRDO after the 10th, you must keep reading. There are four levels of posts for scientists, and you can apply for whichever one is best suited to your qualifications and experience. These designations are as follows:
Scientist 'B' post
Scientist 'C' post
Scientist' D' post
Scientist 'E' post
Eligibility criteria for Senior Technical Assistant
Candidates who have completed either a Bachelor's degree in science or a three-year diploma in engineering/technology/computer science from a recognized institute are eligible to apply to the Defense Research and Development Organization (DRDO). It would answer the common question of How to join DRDO after Diploma. However, make sure you meet all the eligibility requirements before submitting your application. If you don't, your candidacy may be canceled.
Eligibility criteria for Technician 'A.'
To qualify for the job, candidates must have a certificate from their Class 10 board exam or equivalent and a certificate from a recognized ITI branch. Suppose the ITI branch the candidate attended doesn't issue certificates in that course. In that case, the candidate must have a certification from an accredited college or university or a certification from a professional organization. The following certificated can also be considered:
You need to have at least a one-year certificate from a recognized school.
National Trade certificate for the required discipline.
National Apprenticeship Certificate for the needed discipline.
DRDO Exam Pattern
The DRDO exam, called the Scientist Entry Test (SET), is an annual test with two sections. Section A has negative marks, while Section B does not. The total amount of marks on the exam is determined by subtracting Section B's 0.5 marks from Section A's 1 mark penalty for every wrong answer. The exam has an age limit, with 18-27-year-olds being allowed to take it depending on the post they are applying for. Sections A and B of the exam have different amounts of marks, with Section A having 400 marks and Section B having 100 marks.
How to join DRDO after BSc?
DRDO welcomes candidates who have completed their undergraduate studies in science-related fields. After taking the Centre for Personnel Talent Management (CEPTAM) entrance test, these candidates are screened for eligibility to join DRDO's many research branches. First, the best candidates in the National Eligibility Test (NET) are chosen.
Aspirants should be aware that there are many sub-branches of DRDO, namely the Defence Institute of Bioenergy Research. A popular trend observed in the past recruitment data is that qualified undergraduates apply for Junior Research Fellowship (JRF) while talented aspirants at the master's level apply for Senior Research Fellowship (SRF). Only the top of the cream is selected for further rounds of recruitment.
DRDO Candidate Eligibility
Senior Technical Assistant B
To be eligible for this position, the applicant must have a B.Sc degree or diploma in engineering or technology from a recognized institution in specified subjects.
Admin & Allied Cadre:
Assistant Hindi/PA/Administrative positions are open for candidates proficient in Hindi and with previous experience working in a government office.
Technician A:
Applicants for this position should have enrolled and completed an ITI in a specific trade.
DRDO Application Process
Although the basic process of application remains the same for all job posts in DRDO vacancies, we want to provide clarifications regarding the following mentioned positions:
Candidates for the Position A may apply through the online application process or the traditional paper application process.
You should apply online if you want to apply for the Senior Technical Assistant B position.
You should apply offline if you want to apply for the Admin & Allied Cadre position.
To apply for any of our open positions, you must send your application form to the address below:
The Centre for Personnel Talent Management, Defence Search & Development Organisation, Metcalfe House Complex, Delhi - 110054.
Can I Join DRDO After the 12th?
There are a few ways for candidates to join the Defense Research and Development Organization (DRDO) after they complete their high school graduation. Candidates with an ITI certificate can join DRDO as a technician in the desired discipline. If candidates do not have an ITI certificate, they can join DRDO as a store or administrative assistant. After joining DRDO, the candidate must complete a two-tier exam to be hired as a technician, followed by a typing test. Because the candidate won't have a university degree when joining DRDO, technical jobs will not be available to them.
Salaries of DRDO Employees
Salaries for employees in different roles vary, but on average, these are the paychecks for employees in each position. It is important to note here that the level of relevant work experience would make a big difference in the pay scale range of the employees in the field. Hence, these considerations need to be kept in mind while concluding.
| | | |
| --- | --- | --- |
| Grade | Level in Pay Matrix | Initial Pay |
| Scientist 'B' | Level 10 | 56,100/- |
| Scientist 'C' | Level 11 | 67,700/- |
| Scientist 'D' | Level 12 | 78,800/- |
| Scientist 'E' | Level 13 | 1,23,100/- |
| Scientist 'F' | Level 13 A | 1,31,100/- |
| Scientist 'G' | Level 14 | 1,44,200/- |
| Scientist 'H' (Outstanding Scientist) | Level 15 | 1,82,200/- |
| Distinguished Scientist (DS) | Level 16 | 2,05,400/- |
| Secretary, Department of Defence R&D and Chairman, DRDO | Level 17 | 2,25,000/- |
How to Get an Internship at DRDO?
DRDO has an array of research labs across the country, all of which have different research fields, development policies, and training methods. Therefore, it's important to contact the Director of the desired research lab to see if they can offer you an internship. In addition, you'll need to send a duly filled resume to the laboratory director you are aiming for. This resume and a formal email can also be sent to HR.
Conclusion
The Defence Research and Development Organisation (DRDO) is a reputable agency in India, and many people dream of getting a job here. There are many different positions available, from scientists, technicians, assistant technicians, and support staff. Each job role requires a different set of skills and qualifications. It is why aspirants must pay close attention to what the organization needs.
Other than the basic educational qualifications, many job roles need relevant work experience. DRDO is very particular about the quality of candidates it picks. As mentioned earlier, only the best of the best candidates are called for interviews. Hence, achieving a consistently good academic track record would be more or less academic eligibility. Think top 6% of rankers in their entrance exams.
After earning a B.Tech degree, applicants are often recommended to apply for the shop assistant position, as this will allow them to learn about the scientific process and develop their skills in the workplace. It's also possible to apply directly for the Scientist B position if you have achieved high marks on the GATE exam.