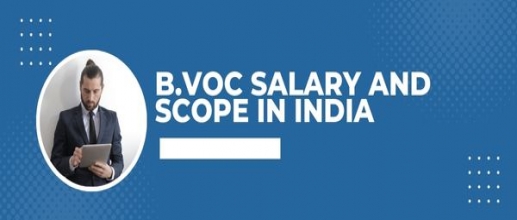 B.Voc is a Bachelor of Vocational Studies, an undergraduate course of 3 years. This course develops the adequate skills of the student. A student who is more interested in gaining practical knowledge instead of theoretical, then they can choose a B.Voc course. This course is growing quickly in India because students are more interested in skill-based knowledge. Due to the high and best skills development, there are more chances of getting selected in the interview round. This course increases employment opportunities in several sectors, such as IT and Manufacturing. The job opportunities to which a B.Voc graduate can apply are:
Computer Operator
Accountant
Food technologies
Beautician
Product development engineer
Design Engineer
Automobile engineer
Research scientist
Home economist
The major education disciplines on which this course focus:
Engineering
Medicare
Arts & Science
Management
Commerce (Banking Applications)
Food management
Others
Highlights of B.Voc
| | |
| --- | --- |
| Course | Highlights |
| Duration | 3 years |
| Eligibility Criteria | 10+2 (any stream) |
| Age limit | 45 years max. |
| Minimum Percentage | 50% |
| Average course fees | Rs. 6000 to Rs. 60,000 PA |
| Job areas | Administrative officer, Office manager, Project manager, General manager, Operations manager, Marketing executive, Assistant professor, Senior executive assistant, etc. |
| B Voc Average Salary | INR 4-5 LPA |
| Hiring organizations | Godrej Industrial Limited, NIIT Ltd., Orion Group, Dabur India Ltd., etc. |
Career Scope for B.Voc Pass Out
A wide range of industries offers job opportunities for B.Voc graduates. The career options for a B.Voc candidate are high. Students must enhance their skills, knowledge, and qualifications to help them build their future careers. The different types of industries that hire B.Voc graduates are:
Beauty and wellness
Fashion technology
Apparel designing
Hospitality and tourism
Tea husbandry and technology
Animation
Refrigerator and air conditioning
Applied computer technology
Healthcare
Software development
Theatre and acting
Soil water conservation
Interior design
Job opportunities for B Voc Freshers
Workforce Coordinator
Restaurant manager
Team supervisor
Placement facilitator
Vocational training associate
College Counselor
Electrical maintenance engineer
Transport associate
Unit manager
Recruitment Areas for B.Voc Graduates
There are numerous positions where B.Voc candidates can apply. The private and government sectors have many opportunities for B.Voc graduates. A vocational field helps the candidate to apply for various jobs. The B.Voc course scope is high as it develops a student's skill set efficiently and effectively in tools and machinery. Some of the job departments that hire B.Voc graduates can apply are:
Retail stores
Automobile companies
IT companies
Laboratories
Parlours
Textile industries
Healthcare
Travel and tourism
Cultivation
Electrics & Electronics industries
Media industries
Designing
B.Voc Salary Packages In India
In India, the salary package for a B.Voc student can range between INR 2-5 LPA. They can demand high salary packages as per their skills, knowledge, and experience. B.Voc salary per month will be around INR 25000-30000. The salary varies in private and government sectors for a B.Voc graduate. The areas in which job options for B.Voc graduates can apply are:
Educational institutes
Manufacturing firms
IT companies
Construction industries
| | |
| --- | --- |
| Job Roles | Average Annual Salary |
| Electric Maintenance Engineer | INR 3.1 LPA |
| Computer Operator | INR 1.8 LPA |
| Executive-Food Processing | INR 5.7 LPA |
| Business Development Manager | INR 5.9 LPA |
| Home Economist | INR 3.9 LPA |
In the B.Voc course, there are some specializations that a student can choose. It is considered a multidisciplinary course. The salary range depends on the specialization of the B.Voc course as well.
B.Voc in Logistics Management - INR 6.5 LPA
B.Voc in Software Development - INR 5.1 LPA
B.Voc in Banking and Finance - INR 9.9 LPA
Government jobs after B.Voc
There are several B.Voc government job opportunities. The job areas in which a student of B.Voc can apply in the government sector are project manager, design engineer, manager, trainee production engineer, medical representative, etc. The average salary in the government sector for B.Voc graduates ranges between INR 2-10 LPA. The departments that offer B.Vc government jobs are:
State Education Institutions
Central Education Institutions
Research and Development Units
Public Sector Undertakings
| | |
| --- | --- |
| Job Designation | Average Annual Salary |
| Accountant | INR 3.5 LPA |
| Food Technologist | INR 3.6 LPA |
| Product Development Engineer | INR 7.4 LPA |
| Design Engineer | INR 8.2 LPA |
| Automobile Engineer | INR 9.5 LPA |
What types of private jobs are available for B.Voc graduates?
In the private sector, various job opportunities are available for B.Voc graduates, such as in the:
Manufacturing industries
MNCs
Retail stores
Automobile companies
Laboratories
Parlours
Others
In India, the salary range for B.Voc in the private sector is between INR 2-7 LPA. After completing the course, a student can pursue higher studies to enhance skills and knowledge or apply for a job.
| | |
| --- | --- |
| Job Roles | Average Salary (Annual) |
| Beautician | INR 2.08 L PA |
| Research Scientist | INR 6.97 LPA |
| Biochemist | INR 4 LPA |
| Vocational Teacher | INR 2.35 LPA |
| Application Developer | INR 5.26 LPA |
Abroad job opportunities for B Voc
Abroad has a very attractive and smart curriculum for the B.Voc course. The students can experience different cultures, infrastructure, amenities, and top lecturers while studying abroad. The job opportunities for B.Voc abroad are:
| | |
| --- | --- |
| Job Profile | Average Salary |
| Food processing officer | USD 43,280 |
| Computer Operator | USD 21,680 |
| Accountant | USD 53,297 |
| Automobile technician | USD 26,980 |
| Vocational teacher | USD 53,748 |
| Engineers | USD 112,442 |
| Food technologist | USD 56,088 |
Courses after B Voc
As compared to several other courses, B.Voc is considered a unique course. The answer is vast if we are talking about the B.Voc course scope. A wide range of career scope and knowledge is there in the B.Voc course. A student can pursue higher studies after completing a B.Voc course from a reputed college. The options for higher education after completing the B.Voc course are mentioned below:
What will be the career options for a B.Voc graduate?
There are numerous job opportunities for B.Voc graduates in different domains and departments. The career options with descriptions available for B.Voc graduates are:
Food Processing Officer - The role of a food processing officer is to check several food processing methodologies in the food industry. It will help the company to promote its production of healthy food.
Computer Operator - In this role, an employee resolves computer hardware and software issues.
Accountant - An accountant will check the cash-related transactions of the organization. For example - debit and credit cards. An accountant also does the maintenance of balance sheets and financial statements.
Top Companies that Hire B.Voc Graduates
Below mentioned are the organizations that offer job opportunities to B.Voc graduate are:
Amul
Godrej Industrial Ltd.
PepsiCo India Holdings
Britannia Industries Ltd.
Mahindra & Mahindra
Dabur India Ltd.
Toyota
Hyundai
Ashok Ley
Haldex India
Yamaha
Audi
Top B.Voc Government College List
In the government sector, B.Voc course colleges are available:
AMU Aligarh
JMI New Delhi
SNDT Women's University, Mumbai
University of Delhi
Top Private Colleges for B.Voc Course
In the private sector, numerous colleges offer B.Voc courses:
B.Voc Course Fees
In India, various colleges offer B.Voc courses, but the course fees depend on the college's infrastructure, facilities, lecturers, and location. The average fees for B.Voc courses range between INR 60,000 - 1.92 LPA. The major colleges in India that offer B.Voc courses will fees structure mentioned below:
| | |
| --- | --- |
| College Name | Average Annual Fees |
| Mar Ivanios College | INR 54,000 PA |
| Ck Shah Vijapurwala Institute of Management | INR 35,000 PA |
| Shri Krishna University | INR 31,000 PA |
| Fergusson College | INR 54,000 PA |
| Central University of Rajasthan, Ajmer | INR 13,700 PA |
| Nirwan University | INR 1.2 LPA |
| Dr Babasaheb Ambedkar Marathwada University | INR 14,500 PA |
| Devi Ahilya Bai University, Indore | INR 99,000 PA |
| HR College of Commerce and Economics, Mumbai | INR 28,620 PA |