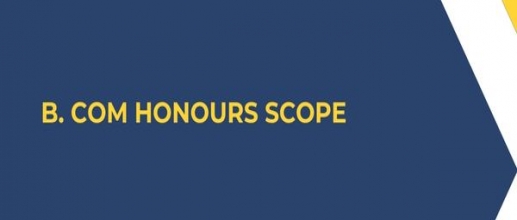 The three-year Bachelor of Commerce (Honors) is the most popular bachelor's degree program in business, accounting, taxation, economics, financial management, etc. The prospects for a B. Com Hons degree are limitless. Students with backgrounds in accounting and finance are in high demand in large corporations, corporate agencies, MNCs, etc. A career in administration, teaching, advertising, journalism, mass communication, law, design, the public sector, etc., is another possibility with a B. Com (Hons) degree.
| | |
| --- | --- |
| Course Level | Graduate |
| Full Form | Bachelor of Commerce (Honours) |
| Duration | Three years |
| Eligibility | Class 12 with 45% aggregate marks |
| Admission Process | Merit-Based and sometimes based on performance in Entrance Examinations |
| Course fees | INR 60,000 |
| Average Starting Salary | INR 3-8 LPA |
| Top Recruiting Companies | Companies that provide business consulting services, educational institutions, industrial buildings, public accounting firms, policy planning, international trade, banks, budget planning, inventory control, merchant banking, and marketing, among others. |
| Job Positions | Business analyst, cost accountant, financial officer, sales analyst, junior analyst, tax accountant, stock broker, economist, business development trainee, and similar positions. |
B Com Hons Eligibility Criteria
The applicant must apply and take the CUET to be considered for admission to a UG course. Only the CUET score will be used to determine admission. To submit a CUET application, candidates must meet the B. Com Hons eligibility requirements, which include Commerce in grades 11 and 12, with Accountancy, Business Studies, Economics, Math, and English as the main subjects.
45% or above in High School (Class 12) in math, accounting, business studies, and other disciplines provided in the commerce field.
Most of the reputed universities consider CUET scores for offering admission. On the other hand, some universities conduct their entrance test. But basically, admission to the B Com Hons is merit-based. However, the admission process might differ.
Each university may have a different minimum cutoff score or other qualifying requirements for admission. Students are urged to follow the websites of the relevant universities for that. Students are typically accepted in universities like IP University, Banaras Hindu University, Aligarh Muslim University, etc., based on their performance in the university-level BCom Hons entrance exams.
B Com Hons Entrance Exams
The top entrance tests for B Com Honours admissions in India are listed below:
CET IPU: Every year, the GGSIPU (IP University) administers this exam to candidates seeking admission to one of the 118 affiliated colleges for courses at various levels in fields like science, business, the arts, languages, engineering, and management. The majority of the exam's questions are MCQs, and it is delivered online. For each course, a new question type could be used.
There will be approximately 100 questions in logical reasoning, data interpretation, general awareness, and general English for BCom Honours, and students must complete the exam in less than 2.5 hours.
BHU UET: Banaras Hindu University (BHU) holds this offline exam for admissions into various UG programs, including B.Sc., B.Com (Hons.), BVSc., BFA, LLB, and others. In addition, many students take this national exam each year to get into BHU, which has about 8000 seats and 6 affiliated institutions and institutes.
Each course has a separate exam structure. For example, exam questions for the BCom Honours course often cover topics like accounting, financial statements, business management, etc.
NPAT: This national-level test is administered by NMIMS and offers admission to several programs, including the B.Tech., BBA, and BCom Honours programs. The exam is primarily MCQ-based and is typically computed-based (online).
Lucknow University Entrance Test: BCom Honours admission is determined by the results of the LUET, which is an annual university-level test. It has 100 multiple-choice questions that students must answer in 120 minutes (3 hours). The BCom Hons syllabus includes questions from Class 10+2 level accounting, business management, mathematics, etc.
Top B. Com Honours Colleges in India
College Name

Fees Structure

Shri Ram College of
Commerce (SRCC)

INR
87,000

INR
48,000

INR
64,000

INR
57,000

INR
42,000

St. Joseph's College of
Commerce (SJCC)

INR
1,80,000

Mithabai College of Commerce

INR 16,000

Daulat Ram College

INR 50,000

Gargi College

INR 37,500

INR 2.7 Lakhs
Career Options after B Com Hons
Graduates can earn up to INR 6-8 LPA as a fresher in a big company or as a financial consultant after completing a B. Com honours program. The potential is vast in the public and private sectors, spanning industries like finance, economics, banking, and corporations. The course offers more
than just the basic information needed to start a career in finance. Additionally, it aids in the preparation of other certification programs like CA, CFA, CMA, and CFP. Students can prepare for and obtain these certification courses based on their interests after completing a B. Com. Hons. degree, which will help them establish their careers in India or even abroad:
Certified Course Details
Association of Chartered Certified Accountants (ACCA)
This degree is a perfect choice if you want to pursue a global career. IMA in the United States offers the CMA, which has many job opportunities. The average salary ranges between INR 5 and 20 LPA.
One of the organisations specifically targeted towards accountants worldwide is ACCA, one of the fastest-growing. Students who join ACCA have excellent career opportunities in India and throughout the world and starting salaries of INR 6–16 LPA and above.

Financial Risk Manager (FRM)

You ought to pursue FRM if risk management interests you. The Global Association of Risk Professionals offers a certification for individuals working in the financial and banking industries that are widely recognised (GARP, USA). The typical wage ranges from INR 10 to INR 17 LPA.

Public Accounting (CPA)

US-certified Public-Accountant is one of the uppermost authorisations that can help uplift your career worldwide.

Chartered Financial Accountant (CFA)

One of the top credentials you may obtain in the US, US Certified Public Accountant, can help you advance your career internationally. The typical wage ranges from INR 7 to 20 LPA.

CFA is one of the most prestigious and challenging programmes to pass in the world. One of the best certification programs available is this one. To become a certified financial analyst (CFA), candidates must pass three tiers of exams. The typical projected pay is in the range of INR 4–25 LPA.
B. Com Honours Salary In India
After completing their Bachelor of Commerce (Hons.) degree, students have a wide range of prospects. Through college placement programs, graduates can gain experience by being hired by reputable finance organisations, consultancies, MNCs, and other sectors. They give these professionals a wealth of experience that aids in helping them make informed career decisions. Some people prefer to stay in the same position.
In contrast, others prefer to switch careers by earning credentials such as Certified Financial Planner (CFP), Chartered Financial Analyst (CFA), Chartered Accountant (CA), Certified Management Accountant (CMA), etc., to access highly regarded, top-tier career options both in India and abroad. One of the various management programs available to students and working professionals who aspire to enter the field of management include the Master of Business Management (MBA), Post Graduate Diploma in Programs for professional diplomas or degrees include Post Graduate Program in Management (PGDM), Graduate Program in Management (PGPM), etc.
Job Position

Job Description

Average

Salary

Accountant

The primary responsibility of an accountant is to carry out financial calculations for the sake of both business and society.

INR 2.48 LPA

Auditor

The correctness and validity of business records are audited.

INR 4.70 LPA

Business

Consultant

Business consultants support the development of both new and established companies.

INR 9.85 LPA

Finance Officer

These executives are employed by businesses to manage financial concerns and corporate choices.

INR 3.40 LPA

Tax Consultant

They typically support businesses and clients with tax-related glitches by preparing tax returns on their behalf.

INR 5.09 LPA

Financial Consultant

Typically, they assist clients in maintaining their financial stability by offering advice on investments and other financial services.

INR 6.39 LPA

Bank Manager

The bank manager makes sure everything runs according to plan, including dealing with customers, employees, and the general public.

INR 7.34 LPA

Stock Broker

Stock brokers work for the company's financial division and offer services for financial transactions involving stocks and other securities.

INR 3.50 LPA

Certified Chartered Accountant (CA)

A Certified CA is qualified to work both alone and in businesses, offering assistance with all financial-related difficulties and investments.

INR 7.91 LPA