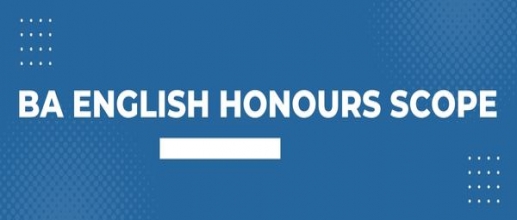 BA Hon English is a popular literature course with three years of duration in India. It focuses on topics such as politics, culture, and society. This course teaches students about literature and its surrounding social and political contexts. In addition, it provides many opportunities for students to find English honors career options in various fields.
Course Details
| | |
| --- | --- |
| Full Form | Bachelor of Arts in English with Honors |
| Duration | 3 Years |
| Average Fees | INR 8000 - 1.3 LPA |
| Average English honors salary | INR 4.26 LPA. |
| Employment Roles | Primary School Teacher, Content Writer, Executive Assistant, Editor, Copywriter, Secondary School Teacher, Technical Writer, High School Teacher, Corporate Trainer, Training & Development Manager, etc. |
About BA Hons English
The BA Hon English program provides undergraduate students with a specialized education in English literature, focusing on understanding the full range of literature written in English. In addition, this program provides students with a greater understanding of English literature as a whole and its impact on the public and its history. The course also uses learning aids that allow students to understand and appreciate English writers' works fully.
With recent developments, the BA English courses in top Indian universities have been revamped to suit modern-day Jobs after BA English Honours. It not only focuses on enriching the usage of the English language by the students but also encourages appreciation for the rich knowledge base available with our history.
Eligibility Criteria for BA Hons English
Students who aspire to pursue this course would need to fulfill the following criteria:
Complete the 10+2 examination with an aggregate of 50% marks
Fulfill the minimum age requirement
Clear, relevant entrance examinations on national, state, or university-level,
Admission in BA Hons English
Most colleges/universities offer admission to the based on marks obtained by students in their last qualifying exam. Some colleges might conduct entrance test for offering admission. Admission to the BA Hon English courses is available to all students from the website or by visiting the college's admissions office.
BA Hon English admission information is available on the respective college websites. The registration process can be done online and offline, but the BA Hon English eligibility should be checked first. If you want to apply online, visit the college's admission website is the best way to do it. If you want to apply offline, fill out an application form and bring the required materials to the college.
Selection Process
Generally, the selection for this course in most universities in India is based on the marks obtained in the student's entrance exams. In addition, the selection for the course is based on the merits the students have shown in their 10+2 board exams and entrance exams. Students are usually notified of their results through an official institute email, or they can find them on the university's official website. Some of the popular and widely-accepted entrance examinations are as follows:
DUET
CUET
BHU UET
LPUNEST
Top 10 Colleges for BA Hons English in India
Depending on the preference of the candidates, they can choose the institute that fits them the best. Some of the top BA English colleges in India are given below:
| | |
| --- | --- |
| Sl. No. | Name of the Institute |
| 1 | |
| 2 | |
| 3 | Quantum University, Roorkee |
| 4 | |
| 5 | |
| 6 | |
| 7 | ABBS, Bangalore |
| 8 | MCC, Bangalore |
| 9 | |
| 10 | |
Fee Structure for BA Hons English
There are a variety of colleges in India that offer a BA Hon English degree. The fees for these colleges can vary, but on average, they range from around 15,000 to 1 lakh per annum. However, the fees for government colleges usually tend to be lower.
| | |
| --- | --- |
| Name of the Institute | Average Annual Fees |
| Manav Rachna International University, Faridabad | INR 1 PA |
| GD Goenka University, Gurgaon | INR 1.3 LPA |
| Quantum University, Roorkee | INR 53,000 PA |
| Daulat Ram College, Delhi | INR 15,000 PA |
| Kalindi College, Delhi | INR 8,000 PA |
BA Hons English Syllabus
The BA Hon English course is two years long, with a spread of four semesters. All curriculum components must be completed. The colleges that offer the BA Hon English course have a syllabus detailing the subjects and skills that will be taught. The course also gives students knowledge about the several methods to become knowledgeable writers and editors and how to understand English literature from all over the world.
Some of the common subjects in most universities are given below:
European Classical Literature
Indian Classical Literature
British Literature
Literature and Caste
Women's writing
Twentieth-century British Literature
Forms of Popular Fiction
Modern European Drama
Why Choose BA Hons English?
BA Hon English is designed to give pupils a inclusive understanding of English literature worldwide and from different periods. In addition, the course materials, instructional methods, and learning aids are specially tailored to meet the needs of students trying to learn this fascinating subject. The main purpose of BA Hons English colleges in India is to help students prepare for jobs and learn about the latest trends in the world by looking at major media sources. Hence, it is relevant for job opportunities after ba English. In addition, the courses offer students with the skills & knowledge needed to understand better literary works that receive less attention.
What Does a BA Hons English Graduate Do?
Graduates have various career prospects accessible in both the private and public sectors. Jobs in government offices, such as writers, editors, and reviewers, are available, as well as positions in the private sector, like blog writing, travel writer, and content creation. Editors are responsible for ensuring that all the content in a publication is of high quality and captivating, and specialist publishers, online media, and in-house magazines also employ them.
Scope For Higher Education
BA English honors degree is a start for exploring the literature world. If one is interested in honing their hiding skills or getting different knowledge about literature and its implication in modern society, it would be beneficial for them to continue their education. Some popular options after completing a BA English honors degree are as follows:
Career Prospects and Job Scope for BA Hon English
Many English-speaking jobs are available in India and abroad, specifically for BA honors graduates. This field is growing in popularity and is essential for Indian and international citizens to have a good foundation in the language.
During the BA Hon English program, students are trained to be professionals who are knowledgeable about the recent changes in the skills and knowledge of English literature. It is important because jobs in the English language industry are often handed out based on a graduate's depth of knowledge and skills in applying it.
Some of the top job profiles English graduates would come across are as follows:
Language Expert
Translation Services
Event Management.
Journalism
English Language
Literature Researchers
Career Options After BA Hons English
The BA Hon English program will help graduates gain skills that will help them find English honors jobs in India in the private and public sectors. These jobs can include positions as teachers, policy analysts, editors, communicators, public relations officers, speech writers, travel writers, bloggers, and reviewers. This course provides a broader range of opportunities than most other programs, which can benefit students in terms of job opportunities and their education.
Popular BA English honors jobs are as follows:
Teacher
Policy analyst writer
Editor
Communicator
Public relations officer
Speechwriter
Travel writer
Blogger or reviewer
Content developer/ manager
Areas of Recruitment for BA Hon English
The BA Hon English degree program provides students with a broad understanding of English literature and media, which can lead to various careers. Some BA Hon English graduates find employment in private institutions, such as schools and universities, while others work in government agencies. All BA Hon English graduates can find employment in some way, as the program provides a strong foundation in English literature and media. There will always be some highest paying jobs for English honors in India in comparison to others
The following are the most common fields where BA English graduates may be recruited:
Public Relations & Advertising
Marketing / Strategic Communication
Editorial and Content Development
In Theatre, Media, and Entertainment, Business
Media Services
Salary Packages for BA Hon English
The salary depends on the level of education, grades and skills acquired. Some job designations that typically offer higher salaries are law clerks, teachers, and journalists
| | |
| --- | --- |
| Job Roles | Average Annual Salary |
| Content Writing | 2.64 LPA |
| Event Manager | 4.77 LPA |
| Historian | 5 LPA |
| Author | 4.5 LPA |
Government Jobs After BA Hon English Salary for Graduates
The salaries paid to BA Hon English graduates in India vary greatly depending on their specialization, with some paying as much as 2-6 lakh rupees. There are also several government jobs after English honors available for graduates with salaries that can be quite lucrative.
| | |
| --- | --- |
| Job Roles | Annual Salary |
| Content Writing | 2 LPA |
| Event Manager | 4 LPA |
| Historian | 5 LPA |
| Author | 4 LPA |
Private Jobs for BA Hon English Graduates
Many jobs are available for graduates with a BA in English in the private sector. Depending on the field of study and the skills the student has acquired, starting salaries can range from around INR 4 LPA. The English honors job scope is wide enough to capture a good market base.
| | |
| --- | --- |
| Job Roles | Annual Salary |
| Content Writing | 4 LPA |
| Event Manager | 6 LPA |
| Historian | 6 LPA |
| Author | 4.5 LPA |
Job Opportunities Abroad for BA Hon English Graduates
For recent graduates seeking employment, many opportunities are available for English honors abroad and in India's professional circles. In addition, many graduates who have worked in India's top companies often find themselves offered transfers abroad, giving them even more opportunities to improve their skills. With ever-growing expertise, job opportunities abroad are on the rise.