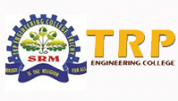 T.R.P. Engineering College Fees Structure
Courses & Fee of T.R.P. Engineering College
Bachelor of Engineering/Technology (B.E/B.Tech)
Asked question about TRPEC fees structure and courses
hi I have completed BE computer science.I would like to do pg in trp.mba /m.tech.may I know fees dea?
asked by Nithya
sir am DME holder join BE mechanical am shedulde cast and am join part time coure i need fees redu?
asked by kaleeshwaran
Need Advice! Ask the question, We would be happy to help you.
Ask an Expert
Interested in T.R.P. Engineering College
Most Searched Engineering Colleges in Trichy