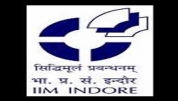 Indian Institute of Management Indore Fees Structure
Courses & Fee of Indian Institute of Management Indore
Post Graduate Diploma in Management
| Specialization | Duration | Total Fees (Approx) |
| --- | --- | --- |
| Finance | 2 years, fulltime | Rs. 14 Lakhs |
| Economics | 2 years, fulltime | Rs. 14 Lakhs |
| Human Resource Management | 2 years, fulltime | Rs. 14 Lakhs |
| Operations Management | 2 years, fulltime | Rs. 14 Lakhs |
| Marketing Management | 2 years, fulltime | Rs. 14 Lakhs |
Photo Gallery
Watch Videos
Asked question about IIM fees structure and courses
ENQUIRY FOR MY DAUGHTER, SHE WANTS TO JOIN MBA IN HR?
asked by Mr. SUDHIR KUMAR GUPTA
I want to know about the fee structure for MBA and scholarship criteria if we clear entrance for IIM?
asked by palak
Need Advice! Ask the question, We would be happy to help you.
Ask an Expert
Interested in Indian Institute of Management Indore
Most Searched MBA Colleges in Madhya Pradesh