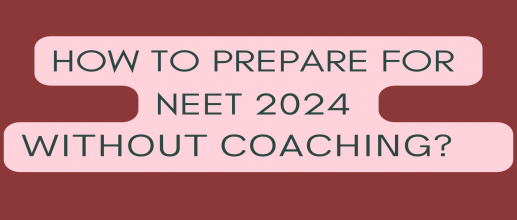 Yes, it is possible to crack NEET 2024 without coaching. Many average students have successfully cleared the exam with determination and consistent practice. To prepare for the NEET Exam in 2024, you need to understand the syllabus thoroughly and create a study plan. Using quality study materials and taking regular mock tests is also important.
Self-Study: Developing a proper study schedule is the first step towards preparing for NEET 2024 without coaching. A good way to do this is to divide the syllabus into manageable chunks, such as topics or chapters. Then, set weekly or daily study goals and reward yourself when you meet them. It will help you stay interested and focused.
Prioritize Subjects: It is also important to prioritize subject areas based on their weightage in the exam. For example, Biology questions have a higher score than Physics and Chemistry, so spending more time on this topic is essential. It will help you score a high rank and fulfil your doctor's dreams.
Practice Regularly: Additionally, it is important to practice regularly and review previously learned concepts. It will ensure you remember the topic longer and improve your solving speed for effective time management. Finally, solving previous years' NEET question papers and NEET 2024 mock tests is recommended to get familiar with the format & types of questions in NEET. It would help if you also tried to identify your weaknesses by analyzing your performance after each test or practice paper.
Time Management: A quiet, clean study area, comfortable seating arrangements, and appropriate lighting are essential. Students should also take regular breaks to help them retain information and prevent burnout. Creating a precise study plan with specific periods for each subject and topic is essential, ensuring comprehensive coverage. It is also crucial to prioritize subjects based on their weight and complexity. It is also essential to use effective techniques for monitoring and assessing your study sessions.
Taking Notes: It is best to write down the key concepts in simple words. It will allow you to revise the concepts before the exam easily. Moreover, it is vital to ask questions and clear doubts daily. It will increase your concept retention and improve your score on the exam.
Study Strategy: NEET 2024 is a challenging exam for candidates. They need to develop a solid study strategy, including time management and mnemonic devices, to improve their chances of success. Candidates must also take care of their physical and mental health. They should try to sleep for a minimum of 7-8 hours daily. They must focus on completing all chapters in the syllabus and use different learning techniques to retain knowledge.
Practice NEET 2024 Mock Tests: Practicing mock tests and the previous year's question papers is an important part of preparation. It helps them understand the exam pattern, improve their time management skills & identify their strengths and weaknesses. They should also try to solve questions within the given time limit and use a clock to measure their performance.
Overcome Weak Areas: A student should try to identify their weak areas and spend more time on them. They should also take sectional and full-length tests regularly and analyze their performance. Additionally, they should consult with mentors and peers to get timely guidance on their preparation. It will help them overcome their weak areas and improve their performance.
Stay Motivated: Staying motivated throughout the process and using effective self-study techniques is essential. During NEET preparation, it is helpful to surround yourself with positive people. Friends and family supporting your dream can boost your morale when you feel low. It is also important to stay connected with peers with the same medical passion. It can help you exchange study materials and brainstorm ideas.
Set Realistic Goals: The most important thing is to set realistic goals and celebrate small victories. Practising relaxation techniques to reduce stress during NEET preparation is also a good idea.
Stay Healthy Finally, it is important to stay hydrated and get enough sleep. It will help you maintain a healthy mindset and increase your productivity.