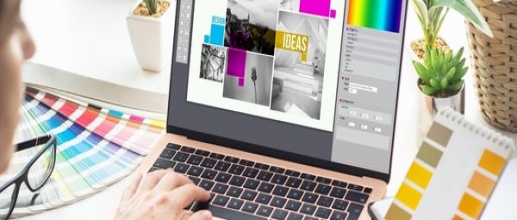 The method of creating visual content for mass information/message dissemination is known as graphic design. Graphic design, regarded as a subset of communication design, is used to produce visual content utilizing components including images, colors, typography, illustrations, and icons.
Graphic design, which is thought to be an art form that was initially employed to make cave paintings some 17,000 years ago, is currently used to create logos, the layout of books, newspapers, and magazines, advertisements, product packaging, signage, and other things of the like. The flexibility to create material without being constrained by programming, resolution, or speed is frequently sufficient for graphic designers.
There are, generally speaking, the following categories of graphic design:
Graphic design for a visual identity
Designing user interfaces visually
Design for motion graphics
Graphic design for publications
Designing packaging graphics
Advertising & marketing visual design
Graphic design for the environment
Illustration and Arts
Candidates interested in a graphic design profession might enroll in an undergraduate or graduate course in this design specialization. In addition, the National Institute of Design (NID), Pearl Academy, and other prestigious colleges provide courses in graphic design to aspiring students. Finally, one can find employment as a graphic designer, picture editor, design manager, teacher, or lecturer, after completing a course in graphic design.
Particulars

Details

Course Level

Undergraduate & Postgraduate

Duration

2-4 years

Course Fee

Up to INR 4 lakh

Average Salary

Up to INR 15 lakh

Top Recruiters

Print & publishing houses (like newspapers, magazines, etc.), Advertising agencies,

Graphic design studios, TV & Multimedia production houses, Website development studios, E-learning companies, Web Design Studios

Job Positions

Motion Graphic Designer, Layout Designer, Web Developer, Graphic designer, Multimedia Artist, Art Director, Product/industrial designer, Film/video editor,
Graphic Design Course Eligibility Criteria
Candidates who have completed their 10+2 in any field (Science, Commerce, or the Arts) are eligible to enroll in a Graphic Design course at the graduate level. The majority of well-known universities, however, only allow applicants to participate in their admissions process if they have completed their education from a recognized board.
On the other hand, candidates must hold a bachelor's degree in design to enroll in a graphic design course at the postgraduate level.
Some of the Colleges that offer Graphic Design Courses
Symbiosis Institute of Design- Pune, Maharashtra
National Institute of Design- Ahmedabad, Gujarat
Vogue Institute of Fashion Technology- Bangalore, Karnataka
iPixio Animation College- Bangalore, Karnataka
Zee Institute Of Creative Arts- Mumbai, Maharashtra
Graphic Design Courses
Universities/Colleges in India offer various Graphic Design courses. The courses are stated in the table below. Check out the Graphic Design fees structure
| | | |
| --- | --- | --- |
| Course | Duration | Fees (in INR) |
| B.Des Graphic Design | 4 years | 2,00,000 - 4,00,000 |
| M.Des Graphic Design | 2 years | 2,00,000 - 3,00,000 |
| B.Sc. Graphic Design | 3 years | 2,00,000 - 3,00,000 |
| M.Sc. Graphic Design | 2 years | 40,000 - 2,90,000 |
Graphic Design Entrance Exams
Aspirants must take an entrance exam to be considered for admission to graphic design programs at renowned universities in India. The subsequent is a list of some of the well-known entrances.
NID Entrance Exam
Pearl Academy Entrance Exam
IIAD Entrance Exam
AIEED
TDV Entrance Exam
How to prepare for common entrance tests in graphic design
The candidate must adhere to a strict exam preparation schedule to get ready for a competitive admission exam like NID:
Familiarise yourself with the exam's syllabus. There is a different syllabus for each admission exam. Additionally, a topic may be covered in two tests, but their weighting may differ. So again, be sure to pay great attention to the exam format.
Solve practice exams and question papers from prior years. The candidate will be able to improve their problem-solving abilities and gain a deeper comprehension of the various subjects by working through example papers.
On the other hand, reviewing question papers from prior years will enable the applicant to examine question paper patterns, the level of difficulty of the questions, the weighting given to particular themes, etc.
Revision is necessary; the applicant must review the material they have already read several times until they fully grasp it. For each topic or concept you are revising, make sure to solve the problem sets.
Try mock exams. Because these examinations are simulations of the actual thing, they might make the candidate feel more at ease taking the test.
Graphic Design Skills Required
To become a graphic designer, candidates need to own the below-mentioned skillset:
| | |
| --- | --- |
| Creativity | Knowledge of Software |
| Visualization | Good Communication Skills |
| Ability to Work in a Team | Ability to work with detail |
| Skill in visual design | Good interpersonal skills |
| Ability to work long hour | Ability to Work under Strict Deadlines |
| Knowledge of Typography | Knowledge of Colour theory |
Graphic Design Syllabus
| | |
| --- | --- |
| Introduction to Graphic Designing | Shaping, Design & Illustration |
| InDesign | HTML/ Javascript |
| Adobe Dreamweaver | Adobe Flash |
| Adobe Audition | Computer Fundamentals |
| Art & Visual Perception | Vector Graphics for Designers |
| Corel Draw | Illustrator |
| Image Layout & Effects | Photoshop |
| Typography | Graphic Designing Software & Tools |
Why Consider Graphic Design?
An interdisciplinary subset of design is graphic design. This course's primary goal and underlying principle are around presenting a certain problem, tendency, or another prevailing social phenomenon originally and creatively. Other names for graphic design include editorial design, visual design, and visual communication design.
Graphic design is concerned with the creative visual display of information. By using imagery, this strategy aids in drawing in larger audiences to any message. Graphic designers are people who pursue graphic design as a career. Some of the crucial facts regarding the course and why students ought to consider it as a career option are provided below.
·The options for this course are endless. The stream is very profitable and well-liked. After the course, candidates can choose a wide range of high-paying occupations.
·The courses are available in both full-time and distance learning formats. Students may select either of the two options based on their preferences.
·Additionally, they can employ their creativity and imagination to construct something from nothing.
·The Graphic Designing curriculum combines creativity and technology. Candidates can consider pursuing a long-term career in it because they are not bored.
·Nearly every marketing and advertising-related phenomenon use graphic design. Moreover, in today's commercially driven society, it is often used in publications, essays, posters, and other forms of media, making it a very demanding vocation.
·Students who enroll in a graphic design course can work as animators, art directors, and entry-level production artists.
Advantages of graphic design courses
Your visual identity, which reflects your brand's mission and values, is established with graphic design.
Beyond developing identification and brand recognition, graphic design has many other uses.
Professionalism and consistency
Build loyalty, goodwill, and trust
Effective graphic design can enhance revenue by converting your viewers into customers and increasing visibility.
Diploma In Graphic Designing
Rather than relying solely on theoretical information, students who want to develop actual Graphic Design abilities can enroll in a one-year study called the Diploma in Graphic Design. In addition, top design schools in India and abroad provide graphic design diploma programs.
To qualify for a Diploma in Graphic Design, candidates must complete their 10+2 examinations from a recognized institution with at least 45% of the possible points. Among the Top Diploma in Graphic Design Colleges in India are Janki Devi Vocational Centre New Delhi, Pacific University Udaipur, Aligarh Muslim University, and Bharathiar University Coimbatore. The typical course fee for enrollment in these programs is from 32,000 to 94,000 Indian rupees.
This course can be pursued in India and other countries like the UK, USA, Australia, Canada, Boston University, Michigan State University, University of Florida, University of Pennsylvania, and other major international colleges that provide graphic design diploma programs.
Top 10 Graphic Design Certification Programs
After earning a graphic design diploma, there are several opportunities. For example, students can work as creative directors, graphic designers, web designers, etc.
Design Factory India and other leading employers of these experts are listed below.
Their annual salaries range from INR 3,00,000 to INR 13,00,000 on average.
To develop new abilities, students might enroll in certification programs in graphic design or seek a degree in graphics.
Who Can Pursue a Graphic Design Diploma?
Candidates who have completed their 12th grade in any field—art, science, or commerce—can enroll in a Graphic Design course at the graduate level. Additionally, several of the most well-known universities allow applicants to participate in the admissions process, but only if they have graduated from a recognized board of education.
When should I pursue a graphic design diploma?
Students must have earned a 12th-grade diploma in any relevant field from an accredited institution, college, or other equivalents. The minimum eligibility requirements that a student should be able to be met before applying for the admins to a selected college or university are given below:
Students should have cleared class 12th from any stream and also from a recognized board of education or equivalent.
Different universities have set different percentages for an HSC exam. Candidates who have scored either equal to or more than that are eligible for admission.
Some colleges also made students wait for the result or appear for the intermediate exam to apply for this course.
There are some types of Graphic Design mentioned below:
Visual identity graphic design
Art and illustration
Packaging graphic design
User interface graphic design
Publication graphic design
Marketing & advertising graphic design
Motion graphic design
Environmental graphic design
A career in Graphic Design
The following fields offer professional prospects once you have completed your graphic design coursework. Jobs profiles are as follows.
Web Designer
Photo Editor
Creative Director
Publications Designer
Video & Film Editor
Graphic Design Instructor
Multimedia Artist
Art Designer
Architecture & Engineering Drafter
Flash Animator
Layout Designer
UI Designer
Popular job profiles in which candidates are hired after trailing a graphics design course are as follows.
| | |
| --- | --- |
| Job Profiles | Annual Average Salary (in INR) |
| Graphic designer | 2,00,000 - 5,00,000 |
| Film/video editor | 4,00,000 - 8,00,000 |
| Art Director | 5,00,000 - 7,00,000 |
| Product/industrial designer | 3,50,000 - 7,00,000 |
| Layout Designer | 5,00,000 - 8,00,000 |
| Web Developer | 10,00,000 - 15,00,000 |
| Multimedia Artist | 3,00,000 - 6,00,000 |
Top Graphic Design Recruiters
An individual with a degree in graphic design may expect an average annual salary of between Rs 2 lakh and Rs 6 lakh. However, candidates might anticipate receiving a greater compensation package depending on their expertise and skill level. The table below lists some well-known employers of graphic designers along with the typical compensation package they offer:
| | |
| --- | --- |
| Name of companies hiring Graphic Designers | Average Salary Offered (in INR) |
| Graphic Design, Inc. | 3 lakhs |
| Designer Graphics | 3.66 lakhs |
| IKEA | 2.24 lakhs |
| Vistaprint Inc | 2.10 lakhs |
| Decathlon Group | 3.36 lakhs |
| Deloitte | 5.50 lakhs |
| Accenture | 4.32 lakhs |
| EY (Ernst & Young) | 7.27 lakhs |
Dimensions of graphic design
Any of the following companies typically hire aspirants who have completed a graphic design school:
Houses of print and publishing (like newspapers, magazines, etc.)
Advertisement firms
studios for graphic design
production companies for TV and multimedia
studios that develop websites
E-learning businesses
Studios for web design
Dimensions of graphic design