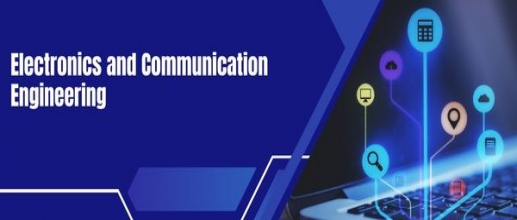 Electronics and Communication Engineering (ECE) is a required field that plays a vital role in modern communication systems. Colleges that offer this degree program focus on teaching students core competencies to help them succeed after completing the program. The curriculum at these colleges features courses that cover telecommunications, energy, and electronics sectors, as well as the development of required skills for integrating hardware and software components.
Another advantage for ECE students is that they can often find jobs in companies that operate in the software (IT) and hardware industries and in telecommunications companies with amazing salary Packages. In addition, the job roles involve working for government organizations, such as the BHEL, ISRO, and DRDO. Therefore, it provides graduates a great opportunity to develop their skills and gain experience in various fields.
Career Prospects and Job Scope for a B.Tech ECE
ECE is an engineering field focusing on developing, developing, and testing electronic devices and equipment supporting electrical systems. Many career opportunities exist for ECE graduates in large and small companies. ECE Engineering Salary Per Month ranges from approx 3 to 6 LPA on average. With the ever-growing technological advances, the ECE field is poised for continued growth.
The latest data from IBEF confirms that about 27% of the factories in the world are involved in engineering, and this industry is projected to reach a value of US$ 115.17 billion by 2025. It suggests that engineering graduates may find amazing job opportunities in the coming years.
Junior Software Engineer
Junior programmer
Research Associate
Junior Developer
Technical Support Engineer
Trainee Engineer
Data Analyst
Testing Engineer
There are many job opportunities for experienced B.Tech ECE graduates that pay attractive ECE Salary in Bangalore per month. Some of them are as follows:
Senior Software Engineer
Senior Software Developer
Associate Developer
Assistant Professor
Technical Recruiter
Design /engineer
Technical Manager
Team Lead
Project Manager
Robotics Development Officer
Areas Of Recruitment For B.Tech ECE
Electronics and communication engineers have many career options, and their skills are always in demand. Many industries are available to ECEs, and new ones are always being created. They are highly intelligent and can quickly learn new information, which makes them very versatile and valuable employees. Some of the highly sought after are mentioned below:
Aerospace Industry
Automotive Industry
Construction Industry
Defense Industry
Electronics Industry
Marine Industry
Telecoms
Utility Industry
Power Generation Industry
Salary Packages for B.Tech ECE
The salary for B.Tech ECE graduates can differ depending on their specialization. Other factors affecting a B.Tech ECE graduate's salary in India include experience, location, and specialization. By doing internships and work placements, graduates can increase their earnings. That is also why engineering colleges emphasize getting field experience with live projects.
B Tech Electronics and Communication Salary in India
The average salary for B.Tech ECE graduates in India is around 3-6 LPA. The table below shows the distribution of salary averages.
| | |
| --- | --- |
| ECE Salary | Amount (INR) |
| Highest package for ECE students | 12 LPA |
| Starting Salary for ECE Students | 4 LPA |
| Average Salary | 6 LPA |
Another way to look at the ECE jobs salary per month breakdown would be by the job profiles that are offered to the B. Tech ECE freshers.
| | |
| --- | --- |
| Designation | Salary (INR) |
| Network Engineer | INR 3.55 LPA |
| Embedded Software Engineer | INR 4.5 LPA |
| Systems Engineer | INR 2.91 LPA |
| Electronics Engineer | INR 5.29 LPA |
B.Tech ECE Salary Abroad
After completing a B Tech Electronics and Communications from an accredited institution, candidates have many options for finding a job. Some places they can look are in other countries, private companies, or research institutions abroad. For example, many multinational companies are interested in hiring B.Tech graduates in ECE. Alternatively, some people research in other countries after completing their B.Tech degree.
The students will access the best infrastructure, amenities, academic curriculums, and faculties while studying a B.Tech ECE abroad. Furthermore, they will be able to work and earn high salaries upon completing the course. The average ECE Salary in abroad for a graduate abroad is $17,910-$200,000 per year. The table below lists the job profiles and corresponding salaries.
| | |
| --- | --- |
| Job Profile | Salary |
| Senior Sales Manager | USD 167,212 |
| Technical Director | USD 124,783 |
| Field Test Engineer | USD 76,755 |
| Service Engineer | USD 70,677 |
Career options after B.Tech ECE
After completing the course, ECE students will likely prefer working for companies in the electronics industry or assisting other companies in this field. Graduates can work in multinational companies such as Alstom Corporate, Havells, Bharat Heavy Electricals, HBM Power Systems, Crompton Greaves, Exide Industries, Neolex Cables, and many more. There are many other options, such as pursuing further education or opting for government jobs. The choice should be inclined toward the student's career aspirations,
After completing B.Tech ECE, graduates can pursue courses in the following areas if they wish to fetch a high ECE Salary per month
M.Tech ECE
Ph.D. in ECE
MBA in ECE
NTTF
CAD Course
Research Specialization in ECE
R & D in industries.
Project Management Professional Course
Master of Science in ECE
Personality Development Course
Electronics and Communications is one of the most diverse programs in terms of employment opportunities, so graduates can find a career that fits their interests and skills.
Electronics Engineer:
Electronics engineers design electronic products and help test them. They may also design circuits, develop software, and troubleshoot hardware problems.
Network Performance Associate:
Network Performance Associates are experts in optimizing networks and ensuring their performance. They are familiar with various networking protocols, equipment, services, and management tools.
Embedded Design Engineer:
An embedded design engineer is responsible for developing custom circuits and systems that require integrated circuits. They have to design chips and systems that integrate many different types of components, which can be very challenging.
Electrical Design Engineer:
Electrical engineers design systems of circuits and systems using electrical principles. They work on projects such as building light bulbs, designing televisions, or designing computer chips.
Testing Engineer:
Testing engineers verify the functionality of products, such as computers, televisions, and cell phones, to ensure they are safe and reliable. They also test software and other electronic devices. The testing process here is called verification. Testing engineers use various methods to test products, and their work is critical to these devices' overall safety and reliability.
Government Jobs For B.Tech ECE
There are many engineering jobs in the government sector in India, with salaries ranging from around 2-6 lakh rupees (US$30-6000). After completing a B.Tech in Electronics and Communication Engineering, the best ECE govt jobs salary in this field are in the government sector.
| | | |
| --- | --- | --- |
| Top Government Hiring Companies | Job Designation | Salary |
| Broadcast Engineering Consultants India Limited | Senior Engineer | INR 6 LPA |
| Electronics Corporation Of India Limited | Technical Officer | INR 2.76 LPA |
| Central Scientific Instruments Organization | Project Associate | INR 3.36 LPA |
Many other government jobs for B.Tech final-year electrical engineering students can be found in various firms. Some of these jobs include working for government agencies, consulting firms, or technology companies such as:
UPSC
IIMC
UDAI
UPPCL
BHEL
Private Jobs For B.Tech ECE Candidates
The options for students who want to pursue a career in a core field may be limited. However, other options are available, such as applying for non-core jobs in the software industry. These jobs often do not require a piece of specialized knowledge in a core area, but they do require excellent communication skills.
Many private companies, such as Wipro, Tata Consultancy Services, Accenture, Infosys, HCL, Genpact, and many more, offer jobs to ECE students. These jobs often involve working as an assistant software engineer, junior software engineer, programmer, net engineer, quality analyst, and more. The jobs often pay well and provide paid vacation and sick leave benefits.
| | | |
| --- | --- | --- |
| Top Private Hiring Companies | Job Profiles | Salary |
| Reliance Industries | Electrical Engineer | INR 6.29 LPA |
| Tata Steel | Senior Engineer | INR 7 LPA |
| TCS | Electronics Engineer | INR 4.48 LPA |
Some top private companies that hire B.Tech ECE students are Apple, Google, Facebook, Microsoft, and IBM. These companies are popular for their innovative and cutting-edge technology, and they are always looking for talented ECE students to join their ranks. Some other Indian companies are as follows:
Airtel
GreyOrange
VVDN
HP
OYO
Job Opportunities Abroad For B.Tech ECE
Even though foreign companies have many job opportunities, finding vacancies or hiring new employees can be difficult. Sometimes, students don't find job openings that match their qualifications, and further upskilling is required. The scope of B.Tech ECE employees abroad is wide-ranging, including engineers specializing in embedded systems, electronics managers, and communication coordinators.
Top Companies
Below are some of the top international companies that are looking for B.Tech ECE graduates:
Schneider Electric
L & T
IEEE
Siemens
Samsung
Robert Bosch
Best Countries
Some of the best job opportunities for B.Tech ECE students are located abroad. These locations include countries such as the United States, the United Kingdom, Canada, and Australia. To find more, here is a list of all countries:
USA
UK
Germany
Canada
Australia
China
Singapore
Various Career Designations Abroad for B.Tech Student
The ECE field is growing rapidly, and there are many opportunities for students to pursue a career in this field. Many jobs require a college degree in engineering, but there are also a variety of other career options, such as research and development. Electronics and communication engineers are essential to the development of modern technology, and the field is expected to grow significantly in the subsequent few years. If you are attentive in a career in this field, a degree in engineering is the perfect starting point. Some of the top career designations in this field are as follows:
Communication Specialist
Embedded Firmware Engineer
Circuit Design Engineer
Electronics Engineer
Electrical Project Manager