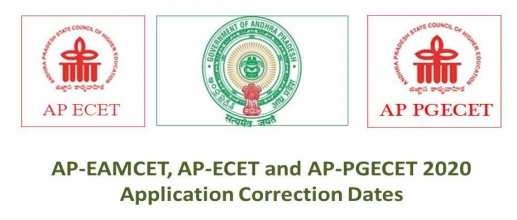 APSCHE (Andhra Pradesh State Council of Higher Education) announced regarding the application correction facility for AP EAMCET 2020, AP ECET 2020 and AP PGECET 2020.Registered candidates who wish to change or edit the details in the application form can change it by visiting the respective website via online mode.
Candidates who registered for AP EAMCET 2020 can access this facility from 4th July 2020 to 7th July 2020.For AP ECET application correction window will be available from 7th July 2020 to 10th July 2020 Applicants who registered for AP PGECET 2020, application correction window will be open from 10th July 2020 to 13th July 2020
Through this available facility, candidates who have registered online will be able to modify the details which they have provided in their online application form. To be noted , candidates can edit only some of the information which is mentioned in the application form.
If candidates wish to modify other details must send a request for the examination authorities along with valid relevant documents via email
As per the new schedule AP EAMCET 2020 examination will be conducted from 27th July 2020 to 30th July 2020 for engineering program. AP ECET 2020 scheduled to be held on 24th July 2020 for Agriculture program. AP PGECET 2020 entrance exam will be conducted from 2nd August 2020 to 4th August 2020.